24 teams in 24 days: Minot Minotauros
September 4, 2013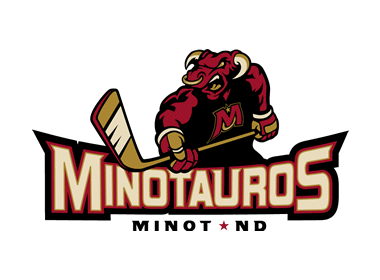 The 24 Teams in 24 Days series features a look at all 24 teams in the NAHL for the 2013-14 season, with a new team being highlighted daily, leading all the way up until the start of the regular season on Friday, September 13th as eight NAHL teams take to the ice on Opening Night. 24 in 24 will go in-depth into each NAHL team and will include interviews with all 24 head coaches in the NAHL, as they provide fans with their expectations and outlook for the 2013-14 season, including taking a look at their roster and their strengths as a team. It will also take a look back on the 2012-13 season and how each team fared and what they accomplished. Best of all, 24 in 24 is done to provide the fans of the NAHL with an inside look at their favorite team and what to expect.
Minot Minotauros
Head Coach: Marty Murray
2012-13 record: 26-30-4, 56 pts. (4th in the Central Division)
2012-13 leading scorer: Jake O'Borsky (56 GP, 13G, 27A, 40 Pts, -13)
2013 Playoffs: Lost to Austin in Central Division Semi-Finals, 3-1
2013-14 Division: Central
First regular season game: Wednesday, September 18th vs. Corpus Christi IceRays, 10:30am
Home opener: Friday, September 27th vs. Austin Bruins, 7:35pm
After posting seven wins during their inaugural season in 2011-12, there was nowhere to go but up for the Minot Minotauros in 2012-13. However, not many people, with the exception of those in the Minot camp, saw a 19-win improvement and a playoff appearance coming, but that is exactly what happened. Not only the Minotauros improve to the point where they were able to make the playoffs, but at times during the regular season, they played like one of the best teams in the NAHL.
"Overall, we were very pleased with our season last year. We definitely had our low points with our start and end to the regular season, but I also thought we played some really good hockey in the middle of the season when things really clicked. I thought we were playing as good as anybody in the league during that stretch," said Minot head coach Marty Murray. "I think it was about developing some confidence as a group. Our guys went into every game believing they could win. We also knew we had two really good goaltenders, who would back us up if we made mistakes, which allowed the guys to really play loose.
"The playoff series with Austin was a great one to be a part of and very competitive," Murray continued. "The series could have gone either way with three, one-goal games and we certainly had good enough goaltending to win. However, in that type of situation we knew the games were going to be close and we just ultimately could not get those goals that would have put us over the top."
The success didn't stop with just the wins and making the playoffs. The Minotauros also managed to increase their average attendance over a season ago and also had five NCAA commitments, including goaltender Tyler Parks (St. Lawrence) and forward Mason Morelli (Nebraska-Omaha). During the off-season, Murray said that despite having a veteran group returning for the 2013-14 season, there was plenty of building to be done. "We only had four tenders, so we had to use them wisely. I think we had to get stronger up front, which included getting some more goal scoring production," said Murray. "I think we are fortunate to have a good group of veteran leaders coming back this season, but I wanted to surround them with some guys that we felt could provide us with some more offense."
The Minotauros will have no fewer than nine players returning from last year's squad and 21 of the 25 players on their current roster were born in either 1993 or 1994, making them an experienced bunch. Forward Jadin Martin returns for his third season with the Minotauros. Last season, Martin was second on the team in scoring with 29 points and in 2011-12 he led the team in scoring with 27 points. Forward Tim Donohue, who was Minot's captain last year, also returns to the line-up having tied for the team lead in goals last season with 13. "Both Jadin and Tim are great leaders on the ice and in the lockerroom and we are expecting big things out of both of them this season," said Murray. "They know what it takes to succeed in this league and I think they are both capable of taking their games to entirely new level."
Other forwards in the line-up that Murray will be looking to for success are Wes Iverson, who had 13 points in 44 games last season with the Minotauros, Jake McCann, Cody Milligan, Beau Ricketts and Cameron Rowat. Rowat had 27 points last season and includes a group of seven forwards that were on the squad last season.
On defense, the Minotauros return Scott Dornbrock and Chance Creger. They are a part of what Murray believes will be the cornerstone of the team. "I think we are going to be real solid defensively," said Murray. "Not only do we have two experienced defensemen like Scott (Dornbrock) and Chance (Creger) back there, but we brought in some players that are older and have some junior experience to help us out."
In goal, Murray is still undecided on who is going to be the opening day starter. One of last year's netminders, Ryan Ruck, is still a possibility as is Brandon Wildung, who played Junior A hockey last year in Canada.
Of the new group of players, Murray did mention a couple of those he has high hopes for. One of those is forward Scott Smoot, who had 26 points for the Colorado Rampage last season. The Minotauors also get two NAHL veterans in Andrew Herlofsky and Tyler Shipstad, who both played for Fresno in the NAHL last season. Jack Forbort from Duluth East High School in Minnesota and Hector Majul from the Phoenix Firebirds in the NAPHL are two players that have had good camps so far according to Murray.
"I think our group up front are going to be able to create and make some plays and really give us some more offense," said Murray. "We want to make it a priority to develop players and move them along to the next levels of hockey. We play in a tough and tight division, and since we had a taste of the playoffs last year, it is our goal to get back there again. I think that is what makes playing in the NAHL and in the Central Division great is that every game is going to be a challenge and make our guys better hockey players and that's what we are here for."
Next up in the 24 in 24 series: Odessa Jackalopes