24 teams in 24 days: Kenai River Brown Bears
August 30, 2013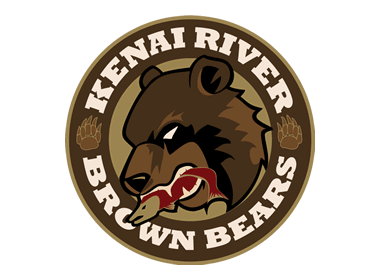 The 24 Teams in 24 Days series features a look at all 24 teams in the NAHL for the 2013-14 season, with a new team being highlighted daily, leading all the way up until the start of the regular season on Friday, September 13th as eight NAHL teams take to the ice on Opening Night. 24 in 24 will go in-depth into each NAHL team and will include interviews with all 24 head coaches in the NAHL, as they provide fans with their expectations and outlook for the 2013-14 season, including taking a look at their roster and their strengths as a team. It will also take a look back on the 2012-13 season and how each team fared and what they accomplished. Best of all, 24 in 24 is done to provide the fans of the NAHL with an inside look at their favorite team and what to expect.
Kenai River Brown Bears
Head Coach: Geoff Beauparlant
2012-13 record: 29-25-6, 64 pts. (3rd in the West Division)
2012-13 leading scorer: Matt Seidel (57 GP, 23G, 19A, 42 Pts, +1)
2013 Playoffs: Lost to Fairbanks in the West Division Semi-Finals, 3-2
2013-14 Division: Midwest
First regular season game: Friday, September 13th vs. Fairbanks Ice Dogs, 7:30pm
Home opener: Friday, September 13th vs. Fairbanks Ice Dogs, 7:30pm
The winds of change blew through the Brown Bears camp in the off-season. Gone was long time head coach Oliver David and enter new head coach Geoff Beauparlant, who had plenty of NAHL seasoning as the long time assistant for the Fairbanks Ice Dogs. If Beauparlant has his way, the Brown Bears will continue what they started seven years ago, which is a continuing upward trend in the NAHL, which led to the Brown Bears best season to date last year.
Their 29 wins and 64 points last year were their second-best totals in the team history, but the Brown Bears needed to prove themselves in the playoffs. Unfortunately for the Brown Bears, they had yet to experience a single playoff win 12 tries and the 2013 NAHL Playoffs would be a tough task as they had to face Beauparlant and Fairbanks in the first round. Not only did Kenai River pick up their first playoff win, they pushed the Ice Dogs to the brink of elimination after they went up 2-1 in the series after Game 3 of the West Division Semi-Finals. However, two one-goal wins by the Ice Dogs in Games 4 and 5 put an end to an otherwise very successful season for the Brown Bears.
It was also a very good year for NCAA commitments for the Brown Bears. A total of eight players made NCAA commitments, which was headlined by Division I commitments from Albin Karlsson (Niagara), who will return to the Brown Bears line-up this season, forward Brad Duwe (Alaska-Anchorage) and goaltender Marcus Zelzer (Michigan Tech).
After the departure of David, the first thing Brown Bears management had to do was find a head coach. Enter Beauparlant, who had spent the previous three seasons as an assistant in Fairbanks. "We were looking for a coach who will continue with the developmental model and standards we have set for our student-athletes," Brown Bears General Manager Nate Kiel said. "Geoff brings experience and initiative which will enable us to raise the bar in terms of recruitment and placement of our players."
Although he only had about a month to try and build a team, Beauparlant was clear what he was looking for when trying to put together the pieces. "We really focused on guys who could score and guys with speed. We have an Olympic-sized sheet of ice at home where we play 28 times a year, so we had to build a team that was built to take advantage of the big ice surface and for that you need guys who can skate and who can score," said Beauparlant.
The Brown Bears will have some old and familiar faces to face this season as a part of the Midwest Division. Of course there are the usual rivals in Fairbanks and Wenatchee, but there is also the new flavor of the Coulee Region Chill, Minnesota Magicians and Minnesota Wilderness. Beauparlant said that he knows they will have their hands full. "Fairbanks and Wenatchee were always the class of the old West Division and I know the three coaches of the other teams very well and they are all going to compete," said Beauparlant. "They are all in an area of the country that has a strong hockey tradition and have a deep talent pool to draw from, so the four teams that make the playoffs from our group will have earned it."
Helping the Brown Bears this season will be nine returning veterans to the line-up, including four returning forwards and five returning defensemen. Both goaltenders, Zach Quinn and Kris Oldham, will be new to the team, although Oldham did appear in one game last season for the Brown Bears. Quinn played for the Compuware 18U Midget Major club last season and is a very solid and athletic goaltender. Oldham, who is just 16-years-old, is a highly touted prospect who recently led the USA National 17 Team to a gold medal in the Five Nations Tournament, as they went undefeated with a 5-0 record. Oldham is a bigger goaltender (6'4/215), who has unlimited potential and will be drawing the eye of NCAA and NHL scouts alike when he steps onto the ice at the NAHL Showcase.
Beauparlant said that one of the things that was attractive about the head coaching position with Kenai River was the returning group of players and the leadership potential they had. "We have a solid core group with guys like Conor Deal, Zack Zulkanycz, Jake Bushey, Jacob Davidson, Albin Karlsson, Alec Butcher, Vincent Stefan and Brad LeLievre," said Beauparlant. Beauparlant said that he is looking forward to seeing how Vincent Stefan plays after he was injured last year and he also said that players like Albin Karlsson and Alec Butcher have the potential to be listed among the top forwards in the NAHL.
Among the new players that will be in Kenai River, Beauparlant said that as a group they are competitors. "I think all of them have a great amount of hockey intelligence and have that will to compete. Many of them come with a championship pedigree, because we wanted guys here that knew how to win and have been a part of winning, because that experience is invaluable," said Beauparlant.
Beauparlant also said that have General Manager Nate Kiel aboard full-time should also help the organization as a whole. "We have made great strides on the ice and in the community and we are here to continue that and make us a Championship contender."
Next up in the 24 in 24 series: Lone Star Brahmas