24 teams in 24 days: Johnstown Tomahawks
August 29, 2013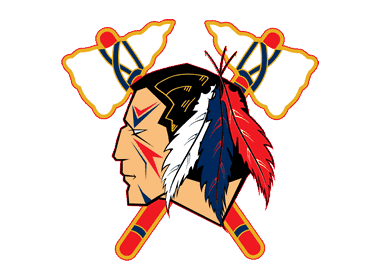 The 24 Teams in 24 Days series features a look at all 24 teams in the NAHL for the 2013-14 season, with a new team being highlighted daily, leading all the way up until the start of the regular season on Friday, September 13th as eight NAHL teams take to the ice on Opening Night. 24 in 24 will go in-depth into each NAHL team and will include interviews with all 24 head coaches in the NAHL, as they provide fans with their expectations and outlook for the 2013-14 season, including taking a look at their roster and their strengths as a team. It will also take a look back on the 2012-13 season and how each team fared and what they accomplished. Best of all, 24 in 24 is done to provide the fans of the NAHL with an inside look at their favorite team and what to expect.
Johnstown Tomahawks
Head Coach: Jason Spence
2012-13 record: 27-21-12, 66 pts. (5th in the North Division)
2012-13 leading scorer: Cody Gylling (57 GP, 16G, 29A, 45 Pts, +5)
2013 Playoffs: Lost to Port Huron in North Division Quarter-Finals, 2-1
2013-14 Division: North
First regular season game: Saturday, September 14th vs. Port Huron Fighting Falcons, 7:30pm
Home opener: Saturday, September 14th vs. Port Huron Fighting Falcons, 7:30pm
When it comes to success stories in the NAHL last season, the Johnstown Tomahawks were front and center. Sure, head coach Jason Spence and crew would have like to advanced further in the playoffs, but last season as a whole has to be consider a grand success. The Tomahawks can hold their head high because if there was one thing they did well last year, it was compete. The Tomahawks played in 37 one-goal games last year during the regular season and playoffs and led the NAHL in overtime/shootout losses with 12. "We would to have liked to won more games and I think that will come with time and experience, but we had a fairly young and inexperienced group in a new environment and I think that we can look back on almost every game we played and say we competed and didn't get outworked," said Spence.
"The biggest amount of satisfaction for me in the first year was to see the progress and development of players," said Spence. "They were on the same page for the entire season and wanted to win and compete, and that's all a coach can ask. They poured a lot of their time and energy into getting out in the community and becoming a part of it and it turn, I think the citizens of Johnstown really accepted these guys as one of their own. It is one of the neat things about this level of hockey. It really humbles the players and provides them with a great life experience to witness the kind of fan support we received."
Johnstown is a hockey town, and the Tomahawks revitalized the community with enthusiasm as the team opened a new era of rich hockey tradition. In their first season, not only did the Tomahawks make the playoffs, but they had three players make NCAA Division I commitments. The Tomahawks also finished fifth in the NAHL in total and average attendance, which included 11 home games with 3,000 fans or more. While there was a lot to celebrate on game nights the Tomahawks were equally as impressive in the community. The Johnstown Tomahawks Foundation directly donated and assisted with donations exceeding $25,000 during the inaugural 2012-13 season. For all their efforts, the Tomahawks were awarded as the 2012-13 Organization of the Year by the NAHL.
The Tomahawks enter the 2013-14 season with a fair number of returning players with a year of NAHL experience under their belts, which will help come those game time situations that Johnstown may have fallen short last season. The strength of the roster may lie in the back end. The Tomahawks will be strong between the pipes. Veteran netminder Colin Brennan returns after appearing in 23 NAHL games last season. The Tomahawks also may have found a gem in veteran NAHL goaltender Alex Okicki. The 20-year-old native of Concord, Ohio brings two full seasons of NAHL experience with Kalamazoo to the net and has a career goals against average of 2.68 and a career save percentage of 91.9% to go along with a 33-20-6 record. Youngsters Colin DeAugustine and Brett Young are also goaltending prospects that could see some playing time.
Defensively, the Tomahawks have five players on the roster who saw time in a Tomahawks uniform last season. Jesse Kessler, who was second on the team in scoring for defensemen with 26 points last year, is back to provide some production on the blueline. Mitch Hall, who joined the Tomahawks during the second half of the season last year, returns after putting up 16 points last season, 13 of which were with the Tomahawks. Fan favorite and physical defenseman Jake Fairchild returns as do Cody Bentzel and Dakoda Menslage.
Two of the top four scorers from last season will return up front this season in the form of Jordan Watt and Brandon Reinholz. That will be a good thing according to Spence since the Tomahawks offense averaged just under three goals a game last season. "Heading into the off-season, we knew our offensive production was something we needed to address," said Spence. "We needed to find more guys who could put the puck in the net and we need to work hard to keep finding ways to manufacture goals." Watt was second on the team with 20 goals last season and had 37 points, while Reinholz was third on the team with 19 goals. JB Baker and Joe Bender are the other forwards returning who saw time last year, but that's where the familiarity up front ends.
As far as the new faces go, most of them are on offense. Potential forwards who have a good chance at making the roster include Eric Tien, who has produced in some early pre-season games. Trevor Recktenwald and Collin Finkhouse, both of whom were in the Top 10 in 18U scoring in the NAPHL last season, can both put the puck in the net. Matt Meier played a handful of games with Kenai River in the NAHL last season and had proven results and although he is just 17-years-old, the Tomahawks added veteran NAHL defenseman Trevor Heuser, who has spent time in the NAHL with Corpus Christi and in the USHL with Des Moines.
Spence said that the expectations for the new group this season are very clear. "Every team wants to win in the playoffs and have a chance to win the Robertson Cup, and we are no different. We also want to be sure that we play well at home because our fans and community deserve to see a winning team on the ice," said Spence. 'We had some games last year with huge crowds and the guys struggled a bit with that. This season, we just need to relax, play hockey and embrace those type of great environments."
Next up in the 24 in 24 series: Kenai River Brown Bears