Fighting Falcons players help spruce up area houses
August 28, 2013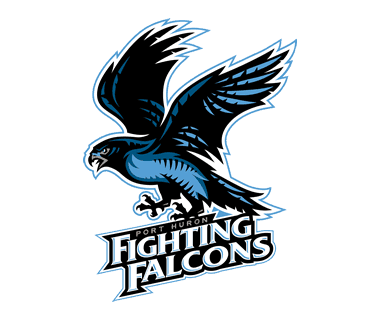 By Crystal Garcia, Port Huron Times Herald
Mechelle Lambrecht has a new sense of pride in her home .
Volunteers with Blue Water Habitat for Humanity were at her Scott Avenue home Tuesday repairing the porch and painting her house .
"It's been wonderful," Lambrecht said. "We started the porch last year, and by the end of the summer, we were out of money and good weather."
This summer was different: Lambrecht spent much of it by her husband's side as he received cancer treatment. She said the extra help on the house meant a lot to them. "I almost cried," she said, when she found out Habitat was coming. "I was two seconds away from tears. I was so happy."
Members of the Port Huron Fighting Falcons of the North American Hockey League (NAHL) and some area lawmakers had a hand in the repairs to Lambrecht's home.
"Hockey isn't the only thing we care about," said Falcons defenseman Zach Feldman, of San Diego, Calif. "... It's definitely good to give back, and it's important to have pride in your neighborhood. (Habitat) definitely helps out with that."
Falcons left wing Jon Hall, of Fishers, Ind., echoed Feldman's sentiments.
"You want to make the neighborhoods look good, keep the city looking good and help people out," he said.
Habitat has worked on six other houses in the Blue Water Area, not including the Lambrechts' home. It also is about 85 percent done on another home in Marine City.