24 teams in 24 days: Fairbanks Ice Dogs
August 27, 2013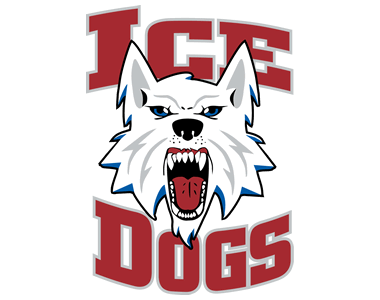 The 24 Teams in 24 Days series features a look at all 24 teams in the NAHL for the 2013-14 season, with a new team being highlighted daily, leading all the way up until the start of the regular season on Friday, September 13th as eight NAHL teams take to the ice on Opening Night. 24 in 24 will go in-depth into each NAHL team and will include interviews with all 24 head coaches in the NAHL, as they provide fans with their expectations and outlook for the 2013-14 season, including taking a look at their roster and their strengths as a team. It will also take a look back on the 2012-13 season and how each team fared and what they accomplished. Best of all, 24 in 24 is done to provide the fans of the NAHL with an inside look at their favorite team and what to expect.
Fairbanks Ice Dogs
Head Coach: Trevor Stewart
2012-13 record: 39-17-4, 82 pts. (2nd in the West Division)
2012-13 leading scorer: Lawrence Cornellier (59 GP, 26G, 32A, 58 Pts, -13)
2013 Playoffs: Lost in the West Division Finals to Wenatchee, 3-2
2013-14 Division: Midwest
First regular season game: Friday, September 13th at Kenai River Brown Bears, 7:30pm
Home opener: Friday, October 4th vs. Corpus Christi IceRays, 7:30pm
The normal peaks and valleys that an organization experiences throughout an extended period of time seems like it have never happened to the Fairbanks Ice Dogs. The IceDogs are on a short list of teams in the NAHL that is always in the conversation of those that are a contender to win the Robertson Cup each season. It doesn't matter if they are in 'rebuilding' mode or loaded with junior hockey veterans, the Ice Dogs are that perennial contender that everyone keeps a close eye on each season.
Even with one of youngest teams in the NAHL last season, the Ice Dogs managed to put themselves in a great position to win another Division title. Even though they fell two points short, the Ice Dogs had plenty to be pleased about with their regular season. The Ice Dogs began the season winning 12 of their first 15 games. Fairbanks also never went more than two straight games without at least claiming a point. The posted 23 wins at home, which ranked tied for second in the NAHL and they had 12 players make an NCAA commitment of some kid last season. They also continued their trend of being one of the best places in the league for support, as they sold out 24 of possible 28 home games, which lead the NAHL. With a seating capacity of 2,242 at the Big Dipper Ice Arena, the Ice Dogs averaged 2,209 fans during the 2012-13 season, which put them at an amazing 98.5% capacity.
The other eye-popping stat was that out of their 60 regular season games last season, 33 of them were decided by a goal. In addition, seven of the Ice Dogs 10 playoff games were also decided by a goal. It made for one heart-stopping season for head coach Trevor Stewart and group. "The whole year was a battle last season. It seemed like every game was a grind and a roller coaster for our group," said Stewart. "With a young group that can be tough, but it was nothing but a positive learning experience. Wenatchee was a very good club and worthy of being in the Robertson Cup Championship game, so we had nothing to hang out heads about looking back on everything as a whole."
Heading into the off-season, the Ice Dogs knew that after having a very young team in 2012-13, it would translate into a much older, more veteran-laden team in 2013-14. However, there were still needs to be met throughout the tendering, draft and tryout process. "We felt like we needed some guys who could produce on the power play," said Stewart. "We ranked 21st overall and were just 13% on the man advantage last season. We needed to get bigger in front and have more strength to win the loose puck battles that are so important in maintaining possession on the power play," said Stewart.
With their inclusion in the new Midwest Division during the 2013-14 season, the Ice Dogs and their 14 returning veterans have to be considered one of the favorites to win the division this season. Stewart said he is excited about the division and its combination of old rivals and new opponents. "Our fans are going to really enjoy seeing some new teams and looks in Fairbanks," said Stewart. "There is intrigue to see how the new organizations in Minnesota will be, along with Coulee Region and we are also excited to be facing old rivals like Kenai River and Wenatchee."
According to Stewart, this year's Ice Dogs group will feature some more size, have more hockey I.Q and have more of a veteran presence. Up front, the Ice Dogs are led by local players Colton Wolter and Tayler Munson. "Both guys are healthy and have trained hard this summer," said Stewart. "They are the type of players who demand a lot of themselves and their teammates."
However, the strength of the Ice Dogs will be their team defense. Five of the six regular defensemen from last season will return to the line-up this season including Doug Rose, Nick Hinz, Duggie Lagrone, Ben Campbell and Johnny Mueller. Rose and Hinz have a proven record of producing from the blueline as they recorded 28 and 26 points respectively last season, and Lagrone is a Colorado College commit.
The Ice Dogs also get veteran goaltender Kevin Aldridge back between the pipes. Aldridge appeared in 29 games last season and had a very good 2.33 goals against average and a 91.5% save percentage. Stewart said that Aldridge will continue in the long tradition of Ice Dogs goaltenders moving onto the NCAA Division I level, as a few days ago he announced his commitment to play NCAA Division I hockey for Lake Superior State.
Stewart said that he was excited about the fresh faces on the roster for the upcoming season, but did not elaborate on any one individual. "The strength in the new players lies in their skill set and hockey I.Q.," said Stewart. "We have only had a couple of practices, but they are grasping the concepts pretty quickly and are very cerebral. We are definitely a bigger team than we were last year and we are going to be a group that understands and studies the game and our opponents. If we can have success in those areas and get the leadership and production we need from the veterans, we should have a good chance for success this season."
Next up in the 24 in 24 series: Janesville Jets