24 teams in 24 days: Brookings Blizzard
August 24, 2013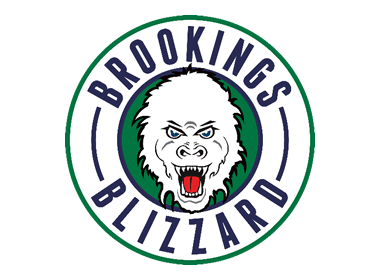 The 24 Teams in 24 Days series features a look at all 24 teams in the NAHL for the 2013-14 season, with a new team being highlighted daily, leading all the way up until the start of the regular season on Friday, September 13th as eight NAHL teams take to the ice on Opening Night. 24 in 24 will go in-depth into each NAHL team and will include interviews with all 24 head coaches in the NAHL, as they provide fans with their expectations and outlook for the 2013-14 season, including taking a look at their roster and their strengths as a team. It will also take a look back on the 2012-13 season and how each team fared and what they accomplished. Best of all, 24 in 24 is done to provide the fans of the NAHL with an inside look at their favorite team and what to expect.
Brookings Blizzard
Head Coach: Cory Laylin
2012-13 record: 32-23-5, 69 pts. (3rd in the Central Division)
2012-13 leading scorer: Thomas Williams (60 GP, 28G, 25A, 53 Pts, +7)
2013 Playoffs: Lost in the Central Division Semi-Finals to Bismarck, 3-0
2013-14 Division: Central
First regular season game: Wednesday, September 18th vs. Michigan Warriors, 4:30pm
Home opener: Friday, September 27th vs. Aberdeen Wings, 7:15pm
All things considered, the Brookings Blizzard will look back on their first season in Brookings, South Dakota as a success. The Blizzard treated their new home fans to a season in which they won 20 games at home, making them one of only seven teams in the NAHL to accomplish that feat last season. At several points last season, the Blizzard looked like the class of the Central Division and one of the best teams in the NAHL. One of those periods was the beginning of the season in which the Blizzard jumped out to a torrid 13-4-0 start. In January and into February, the Blizzard had another stretch in which they went 11-3-1.
However, it was the first round playoff loss and sweep at the hands of the Bismarck Bobcats that left the Blizzard with a void at the end of last season. First year head coach Cory Laylin was quick to recognize the peaks and valleys that went along with the first season in Brookings. "I thought we had a solid season with an older, veteran group and at times, we played some really good hockey," said Laylin. "We also had our lulls and I think it ended up hurting us a bit to qualify early for the playoffs. Naturally, we weren't happy with the result against Bismarck, but I think our guys, myself included, learned a lot from the experience and will be better for it heading into this season."
"I was real happy with the way we started the season," said Laylin. "I think it is something we will look to duplicate this season, because a strong start really puts you ahead of the game and you can continue to maintain a primary focus on development. We are going to have a lot of new faces this year, so it will be important that they are fast learners and we can get ahead of the game again. With the night in and night out competition in our division, it is going to be hard to look ahead. I think we need to just worry about playing well and make the playoffs and then take it from there."
With the losses of the likes of their two top scoring forwards in captain Thomas Williams and Justin Moody, along with NCAA departures Drew Brevig (Ohio State), Aidan Cavallini (Wisconsin), Tyler Cayemberg (Wisconsin-Stout) and Cody Marooney (Alabama-Huntsville), Laylin and the Blizzard had some openings to fill when planning for this season. "We lost quite a bit of veteran and experienced defensemen, so we focused on building this year's team from the back out," said Laylin. "We were looking for guys who were hard workers and guys that are going to be accountable on the ice. We need to take care of things in our own end first and then worry about creating offense after that."
Despite the losses of some key veterans, Brookings will have some familiar faces on the roster to begin this season. Up front two key returners are Eric Brenk, Evan Hesse and Nick DeCenzo. Brenk is a tough power forward with a goal-scorers touch. He was in the rare category of having 20+ goals, 20+ assists and 100+ penalty minutes last season. It simply means he can score, create and mix it up if he has to. After the first month of the season, Hesse was traded from Johnstown to Brookings and he flourished, scoring 37 points in 46 games after scoring just four points in nine games with Johnstown. DeCenzo was no slouch either with 25 points last season, but some of that cam while playing defense because of team injuries. "I think all three of those forwards bring something special to the table and are going to be veteran leaders for us," said Laylin.
The defense will be almost entirely new in 2013-14. Of the six regular defenseman that played in the rotation last season, only Brandon Parker returns for the Blizzard. Parker, 20, played a portion of the season in the USHL last year and will be the only veteran on the blueline to start this season. "Brandon was real solid for us last year, but his role gets a lot more important this season. He can see the ice well, is a great skater and can make that initial pass to get us breaking out of our zone," said Laylin.
Perhaps no responsibility will be greater to start the season than that on the shoulders of returning goaltender Drew Weigman. The 19-year-old from Arnold, Maryland, was a workhorse last season for the Blizzard, as he ranked 4th in both games played and minutes played and 3rd in saves in the NAHL last year. He will also be trying to duplicate his start from a season ago, as last September he was honored as the NAHL Goaltender of the Month. He was also named the NAHL Central Division Star of the Week three times last season on October 1st, December 10th and January 7th. "He has a lot of experience and knows how to stop pucks at this level," said Laylin. "It isn't any secret that he is going to have to be our rock this year."
As for team strengths for the 2013-14 season with the group of new players, Laylin didn't specify any one player, but remarked that he thought the team would have more speed and physicality as a whole. "I think when you have a fast and tough team, you have a good chance to win on a regular basis in this league," said Laylin. "We want to be tough to play against and have the type of players that will get stronger and better as the season goes along."
Next up in the 24 in 24 series: Corpus Christi IceRays