24 teams in 24 days: Austin Bruins
August 22, 2013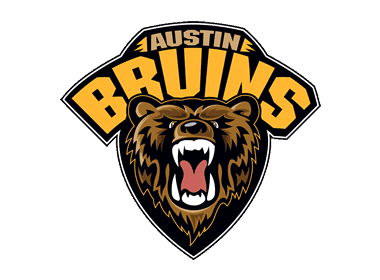 The 24 Teams in 24 Days series features a look at all 24 teams in the NAHL for the 2013-14 season, with a new team being highlighted daily, leading all the way up until the start of the regular season on Friday, September 13th as eight NAHL teams take to the ice on Opening Night. 24 in 24 will go in-depth into each NAHL team and will include interviews with all 24 head coaches in the NAHL, as they provide fans with their expectations and outlook for the 2013-14 season, including taking a look at their roster and their strengths as a team. It will also take a look back on the 2012-13 season and how each team fared and what they accomplished. Best of all, 24 in 24 is done to provide the fans of the NAHL with an inside look at their favorite team and what to expect.
Austin Bruins
Head Coach: Chris Tok
2012-13 record: 42-11-7, 91 pts. (1st in the Central Division)
2012-13 leading scorer: Brandon Wahlin (58 GP, 20G, 49A, 69 Pts, +2)
2013 Playoffs: Lost in the Central Division Finals to Bismarck, 3-1
2013-14 Division: Central
First regular season game: Wednesday, September 18th vs. Port Huron Fighting Falcons, 5:00pm
Home opener: Saturday, October 5th vs. Brookings Blizzard, 7:05pm
On paper, the Austin Bruins had the most successful season to date for the franchise that just completed its third season in the NAHL. The Bruins posted the second best record in the league at 42-11-7 and they were one of only two teams to win at least 20 games both at home and on the road. They also saw a 16% increase in attendance last season, which included an all-time record crowd of over 2,100 fans at their annual Pink in the Rink event. Couple that with the nine players that earned NCAA commitments last season, and most teams would kill to have the type of season the Bruins did last year.
However, a competitive fire still burns within the organization and head coach Chris Tok because of a Central Division Finals loss to the Bismarck Bobcats for the second year in a row. "We had a very good regular season. Our guys improved and played some really good hockey. We also grew the fan base and were able to continue to be a great entertainment option for our supporters," said Tok. "I think when you look back at the thing as a whole, we walk away from it very proud as an organization. However, there is some disappointment there because I felt we had a very competitive and deep team that could put the puck in the net, so to fall short to Bismarck again in the playoffs was a little tough. I think moving forward this year it continues to fuel us and the returnering players to become better and stronger so that we learn and grow from it and work this season for a different result."
Tok said that the goal for the 2013-14 season is to make the playoffs and then hope that the team is playing their best hockey of the season come March and April. "I think getting over that final hump is all about where you are as a team at the time and how hard you are willing to work and pay the price," said Tok. "I think our top three goals are making the playoffs, getting a chance to play for the Robertson Cup and continuing to make our players better and move them onto the NCAA. If we can come to rink everyday and work hard with those three goals in mind and improve, that's all I can ask."
The Bruins were a potent offensive team last season, but entering the 2013-14 season the Bruins will have to replace five of their top six scorers from a season ago, something that Tok said was a priority to address in the off-season. "I don't think we are going to be a team that can score at the flip of a switch like we did at times last year. We are going to have to find different ways to manufacture goals this season," said Tok. "We are going to have to work hard in the corners and have guys go to the tough areas of the ice to get loose pucks and do the dirty work. I don't think we are going to be as skilled as last season, which simply means we are going to have to work harder this season. We were definitely looking for guys who could put the puck in the net and create offensive chances."
The Bruins will get a boost from the start as Nick Lehr will return between the pipes. The 20-year-old is coming off a season in which he appeared in 38 games and had 25 wins, which ranked sixth in the NAHL last season. He was also named the NAHL's Goaltender of the Month back in December last season. In two years in the league he has a career goals against average of 2.49 and a career save percentage of 91.6%. Justin Quale, who played in Tri-City in the USHL and Jacob Stack, who played for Atlanta in the NAPHL last season are expected to provide competition for Lehr in earning the starting job. "I think we are building from the net out and I think we are very deep in goal, so that should allow our forwards the time it take for that extra development and should provide some healthy competition in goal to see who is going to be the starter," said Tok.
Along the blueline, Tok said that he feels the group will be solid led by veteran Jake Arroyo. "Arroyo is a guy that will be a leader and a solid presence in the lockerroom and on the ice," said Tok. The Bruins have a total of three returners on defense, but in addition, two newcomers, both with junior hockey experience, should be able make an impact from the start. Tok said he feels like the defense and the goaltender will be the strength of the team, particularly to begin the season, when there are still many unknowns.
We have a lot of young guns up front, so it is going to be a little bit of a crap shoot early on," said Tok. "In order to find out how good they are and who fits in well with each other, we are going to have to let them open it up and make some mistakes." Returners Jay Dickman and Josh Brettner will be looked upon to provide scoring and veteran leadership up front. Tok also said that newcomer Sam Kauppila, who is a 17-year-old forward who has already received a lot of NCAA Division I interest, is a younger player with a lot of talent to help put the puck in the net.
"With the NAHL continuing to grow and evolve and add teams in the areas like Minnesota, it maintains a great focus on this level of hockey and the opportunity we present for the college-bound player. We feel like each season here in Austin we have gotten better and more popular with our fans and in the community so we will continue to strive do that this upcoming season," said Tok. "I think the more we can continue to get our in the community and show that this organization is here for the long haul, the more popular and successful we will continue to become because the community now feels they have that hometown team they can be proud of with each season that passes.
Next up in the 24 in 24 series: Bismarck Bobcats