NAHL regular season begins in one month
August 12, 2013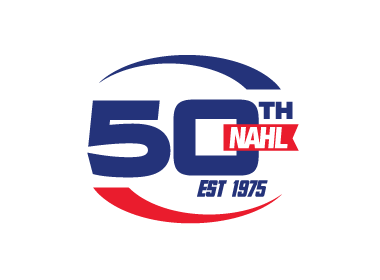 The North American Hockey League (NAHL) regular season is just one month away and August is traditionally a very busy month for NAHL teams. The NAHL, which will celebrate its 38th season of hockey in 2013-14, is the only USA Hockey-sanctioned Tier II Junior league boasting 24 teams in 11 states from across the United States.
The 2013-14 regular season will commence on Friday, September 13, 2013 with four games slated on Opening Night. The regular season comes to a close on Saturday, March 29, 2014.
In mid to late August, all NAHL teams will be holding their training camps as they make their final roster decisions for the 2012-13 season. Teams must be down to a 25-man roster by September 1st. By October 1st, each NAHL club has to submit a final 23-man roster. Each NAHL team will play 60 regular season games, followed by the Robertson Cup Playoffs, which will begin in April of 2014.
The 11th annual NAHL Showcase Tournament will be held from September 18-22, 2013 at the Schwan Super Rink in Blaine, Minnesota. All 24 NAHL teams will play four regular-season games at the Showcase, which has evolved into one of hockey's most prominent and popular events of the entire season. For scouting purposes, the event is a yearly gathering for every NCAA program and NHL team as they get their first look at some of the best and brightest hockey talent North America has to offer.
The 2014 NAHL Top Prospects Tournament will be held from February 17-19, 2014 at the Troy Sports Center in Troy, Michigan. A schedule and format will be announced on a future date. The 2014 Robertson Cup Championship Tournament, which crowns the NAHL's playoff champion and USA Hockey's Tier II Junior A national champion, will be held from May 8-11, 2014. A location and format has yet to be announced.
The NAHL is coming off another banner season in which over 180 NAHL players made commitments to NCAA schools. In addition, NAHL alum Patrick Kane was named the 2013 Conn Smythe Trophy winner as MVP of the 2013 Stanley Cup Playoffs, five players with NAHL ties were selected in the 2013 NHL Entry Draft and a total of 23 NAHL alumni appeared in the 2013 NCAA Frozen Four
The NAHL is also coming off another record-breaking season at the turnstyles. Two years ago, the NAHL, which was at 28 teams, set an overall record for total attendance with 1,128,098 fans during the regular season. This past season with four less teams in the league, the NAHL saw a total of 1,097,499 fans come through turnstiles, which not only almost equaled last year's total number, but also set a new average attendance record of 1,524 fans on average per NAHL game.
Beginning on August 20th the NAHL will debut their series: NAHL 24 in 24. NAHL 24 in 24 is a series written exclusively for nahl.com that will go in depth and preview all 24 NAHL teams as they prepare for the 2013-14 season. Features include interviews with all 24 head coaches along with a look at each team's roster. NAHL 24 in 24 will also take a look back at the 2012-13 season, how each team fared and how they feel they can improve for the 2013-14 season.