Top Prospects goalie Haight makes NCAA DI commitment
August 2, 2013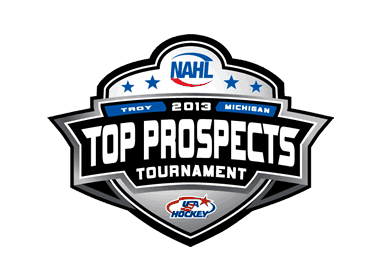 The North American Hockey League (NAHL) is pleased to announce that former NAHL Top Prospects goaltender Macauley Haight has recently committed to play NCAA Division I hockey for the University of Massachusetts Minutemen of Hockey East. Haight played the 2012-13 season for the NAHL's Fresno Monsters.
Haight, 21, played the past two seasons for Fresno in the NAHL. Both year's he played along side teammate Tomas Sholl, who himself is also an NCAA Division I commit.
This past season, the native of Sammamish, Washington, set career marks for games played (31), saves (937), wins (8) and save percentage (88.9%). Haight (6'0/185) posted a record of 8-20-2 and had a goals against average of 3.93.
Haight had some memorable moments during the 2012-13 season. It began with winning his first three starts, which all came at the 2012 NAHL Showcase. On January 19th, he made 41 saves in a 4-3 win in Wenatchee against the Wild. A month earlier, Haight made a career-high 52 saves in a 4-1 loss in Wenatchee. On January 6th, he stopped 34 of 35 shots in a 3-1 home win over Kenai River. On February 23rd he made 39 saves and stopped all four shooters in the shootout in a 2-1 win in Johnstown against the Tomahawks.
Haight was also selected to play in the 2013 NAHL Top Prospects Tournament in Troy, Michigan where he played for Team Frontier, who ended up winning the event with a 2-1 record. Both the wins came with Haight in goal as he made a total of 61 saves in the two games. He also led all goalies in the event with 120 minutes played.
During the 2011-12 season, Haight posted a 7-9-4 record with a 3.44 goals against average and a 88.3% save percentage. For his NAHL career, Haight finishes with 55 career regular season games played, a 3.72 goals against average and a 88.7% save percentage.
Haight is the first Monster from this past year's Fresno squad to commit to an NCAA Division I school and joins teammates Karl Andersen (Wisconsin-Stout, NCAA DIII) and Mark Bittner (Wisconsin-Stevens Point, NCAA DIII).