Five players with NAHL ties selected in NHL Entry Draft
July 1, 2013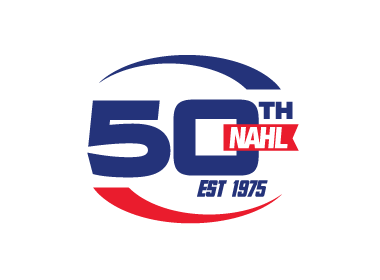 The North American Hockey League (NAHL) is pleased to announce that five players with NAHL ties were drafted as a part of the 2013 NHL Entry Draft, which was held on Sunday, June 30th at the Prudential Center in Newark, New Jersey.
It was particularly a big day for players from the Wichita Falls Wildcats. Goaltender Evan Cowley, who played with the Wildcats this past season and was a part of the NAHL Top Prospects Tournament, was selected as the first pick in the 4th round (#92 overall) by the Florida Panthers. It marked the second straight season in which a goalie from the NAHL was drafted. Last season, two goalies (also from the South Division) were drafted as Anthony Stolarz went in the 2nd round and Connor Hellebuyck went in the 5th round.
It has been quite the journey for Cowley, who at this time last year, was just getting drafted into the NAHL by Wichita Falls. It didn't take long for Cowley to catch the eyes of NHL scouts as he debuted and played well at last year's NAHL Showcase.
"It is very surreal. I was excited to be drafted into the NAHL and then a year later to hear my name called in the NHL Draft shows just how far things have come in a year's time. I didn't think it would happen that fast, but this past year has been a great ride and given me a lot of experience, so hopefully things keep going that way," said Cowley.
As a 17-year-old rookie for the Wildcats, Cowley tied for the league lead in games played with 50 and was 2nd in minutes played with 2,897. He ranked 4th in saves with 1,259 and posted a goals against average of 2.90 and save percentage of 90%.
Cowley's (6'4/190) accomplishments during the 2012-13 season extended all the way to the international stage as he was also played in the USA Hockey All-American Prospects Game back in September in Buffalo, NY and followed that up by representing Team USA National Under-18 Team in February at the Five Nations Tournament in Jonkoping, Sweden. He also appeared in the NAHL Top Prospects Tournament this past February.
"Obviously you get an opportunity like this, to get drafted, it's a big day," said Cowley. "I just tried to stay calm and collected and it worked out very well. I met with Florida on Saturday and they mentioned to me that they might be selecting me early in the fourth round. They had a bunch of picks lined up there so I just had my fingers crossed going into the fourth round and it worked out."
"I think the NAHL has a great ability to find and develop players with hidden talents, or talents that have gone overlooked by others," said Cowley. "I also believe that the exposure that I received at the two big NAHL events (the NAHL Showcase and the NAHL Top Prospects Tournament), played a big part in getting seen and exposed to scouts to make a day like this possible. It is a great league for players to work hard, develop and then get noticed and recognized."
"I had a wonderful experience playing in the NAHL and more specifically, Wichita Falls. We had such a support system from the coaches, to the staff, to the fans," continued Cowley. "The coaching staff was tremendous and had my back no matter what happened. Even if I had an off night, they would have the confidence to put me back in the next night and that really says a lot. I also had a great bunch of teammates last season. Not only was there a lot of talented guys, but they were a good group of people on and off the ice. They really made my job a lot easier and I wish them all the success in the world going forward."
It wasn't just Cowley who heard his named called in the NHL, as other players that recently played and were trained in the NAHL heard their names called as well.
Former Austin Bruins goaltender Eamon McAdam was selected in the 3rd round (#70 overall) by the New York Islanders. McAdam appeared in nine regular season games with the Bruins in the middle of the 2010-11 regular season. He posted a 2-4-2 record with a 3.32 goals against average and a 90.4% save percentage.
Former Wichita Falls Wildcats forward Zach Pochiro, who led the team in scoring during the 2011-12 season as a 17-year-old, was selected in the 4th round (#112 overall) by the St. Louis Blues. Pochiro spent last season playing major junior hockey with the Prince George Cougars of the Western Hockey League (WHL). Pochiro is a particularly great story as he played during the 2009-10 season with the Nevada Stars 16U team of the North American Prospects Hockey League (NAPHL).
Former Wichita Falls Wildcats defenseman Tucker Poolman, who was teammates with Pochiro on the 2011-12 Wildcats team, was drafted in the 5th round (#127 overall) by the Winnipeg Jets. Poolman led all Wildcats defensemen in scoring during the 2011-12 season with 29 points in 59 games played. Poolman also played in the 2012 NAHL Top Prospects Tournament where he played on Team Midwest.
Former Topeka RoadRunners goaltender Cal Petersen was drafted in the 5th round (#129 overall) by the Buffalo Sabres. Petersen played in a pair of games during the final part of the 2011-12 regular season for the RoadRunners. He posted a 1-0-1 record with a 1.86 goals against average and a 92.5% save percentage.