Iron Throne: Jamestown wins North to advance to Robertson Cup
May 2, 2013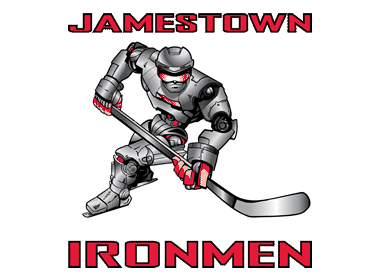 North Division Finals, Game #3
Soo Eagles 2 @ Jamestown Ironmen 5 (Jamestown wins series, 3-0)
(By Phil Genco) The Jamestown Ironmen became the North Division Playoff Champions after defeating the Soo Eagles, 5-2 on Thursday night in North American Hockey League playoff action. After winning a pair of games on the road, the Ironmen swept the top seeded Eagles with a Game 3 victory in front of a raucous home crowd at the Jamestown Savings Bank Arena.
The Ironmen jumped all over their opponents in the first period, taking a 3-0 lead into the first intermission. Ironmen forward, Daniel Cesarz sparked the scoring with a goal only 3:07 into the game. The assist came from Tyler Dunagan. Evan Ritt buried a goal and later provided the assist for a Ryan Doucet score, while Luc Gerdes provided a pair of assist in the first period.
In the second period, the Soo came out swinging and managed an early goal from Alexander Taulien to snap a five period scoring drought which began in Game 2. The Eagles notched another goal later in the period from Dante Suffredini and entered the second intermission, trailing the Ironmen, 3-2.
Ironmen defenseman, Dylan Zink beat Tyler Marble with an unassisted goal 5:23 into the third to stretch the home team's lead to two goals. Jamestown played gritty defense the rest of the way and protected their lead with excellent play in goal by Joey Ballmer.
Ballmer finished the night with 24 saves on 26 shots and has led the Ironmen to a perfect 6-0 record throughout the playoffs, the only team in the league to do so.
"We had a game plan and we stuck to it," said Ironmen Head Coach Dan Daikawa. "We played very well in the first, but allowed them to dictate in the second. Before we went out in the third, we said in the locker room, 'If we win this last period we will win the game and be on our way to Frisco.' We stuck to it, played hard and everyone on this team has sacrificed all year long to get to this point."
Jamestown outshot the Eagles, 36-26 while Huba Sekesi added an empty-netter with an assist from Cesarz en route to a 5-2 Ironmen victory.
After finishing last in their division just a season ago, Jamestown has fought its way to the top and will now represent the North at the Robertson Cup Tournament in Frisco, Texas next weekend.
"No matter the situation, we are a tight knit group," said Daikawa. "Nobody picked us to be here, and that motivates us. Our goal remains the same; to bring a National Championship back to Jamestown, and we are going to give it all we got."
With 78 regular season points (one point less than any of the teams remaining alive in the playoffs), the Ironmen will be the #4 seed at the Robertson Cup Tournament next week.
Jamestown's round robin games will be as follows:
Friday, May 10th vs. #1 Amarillo, 7:30pm
Saturday, May 11th vs. #2 seed, 4:30pm
Sunday, May 12th vs. #3 seed, 7:30pm
Monday, May 13th: Championship Game (top two teams from round-robin)
For more information on the Robertson Cup Tournament, including tickets, hotels, schedule and other tournament details, please visit www.robertsoncup.com