South Finals take center stage this week
April 29, 2013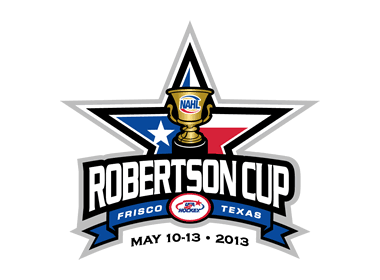 The South Division Finals between the Amarillo Bulls and Texas Tornado take center stage in the middle of this week with Game 3 shifting back to Frisco, Texas on Tuesday, April 30th at 7:00pm. Game 4, if necessary, would also be played in Frisco on Wednesday, May 1st at 7:00pm.
The Bulls dominated the first two games of the series last weekend, outscoring the Tornado 9-2 in the first two games. The Bulls have made the Tornado pay thanks to an offense that has been relentless at times. The Bulls are very deep from top to bottom and from front to back, but they have been able to win the first two games thanks to their ability to not take their foot off the gas pedal. Their goals have come in waves and in streaks, which has given them momentum in what were otherwise close games.
Meanwhile, the Tornado have to find an answer and quick as their first elimination game of the series is Game 3 Tuesday. The Tornado have been outshot 84-53 in the first two games of the series, so that number has to improve and Texas has to find a way to generate some more scoring. In five playoff games, the Tornado have 14 goals, and eight of those came in their Game 3 win against Topeka. The remaining six have come in their other four games.
Amarillo has scored first in both games of the series thus far, so early momentum could play a key role. Amarillo is wanting to close out the series in Game 3, as that would provide them the maximum amount of time to prepare for the Robertson Cup, while the Tornado have to just take things one game at a time and focus on winning Game 3.
Brady Ferguson leads all NAHL players in playoff points with nine, which includes five goals and four assists. Amarillo goalie Paul Berrafato has a 2.17 goals against average and a 91.9% save percentage in six playoff games this season.
The Tornado are led by Scott Conway and Alexey Soloviev, who have five points apiece. Goaltender Hunter Leisner has a 92.9% save percentage and a 2.57 goals against average through five games.
The games can be viewed live on FAST Hockey
Game 3 in the North Division resumes in Jamestown on Thursday, May 2nd. Jamestown leads the best of five North Finals, 2-0. Game 3 in the West and the Central Divisions takes place on Friday, May 3rd, and both series are tied 1-1.