Bulls take 2-1 series lead with win on Tuesday
April 9, 2013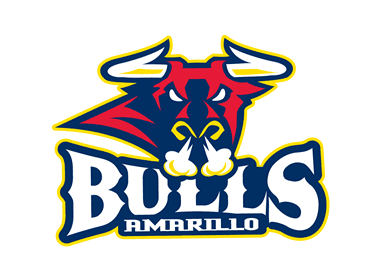 South Division Semi-Finals Game #3
Amarillo Bulls 5 @ Corpus Christi IceRays 3 (Amarillo leads best of five series, 2-1)
By Rob Lippolis, Corpus Christi IceRays
The Amarillo Bulls picked up two goals from captain John Rey and won Game 3 by a 5-3 margin to take a 2-1 lead in the best of five series against the Corpus Christi IceRays. Rudy Sulmonte provided two goals for the IceRays, who mounted another third period comeback, but it would fall short in the end.
Amarillo struck first with just 2:41 left in the opening period. Bulls defenseman Garret Peterson took a shot from the right point that was deflected by Ryan Cole behind Hayden Stewart for a 1-0 lead. The goal was Cole's first of the playoffs with the other assist going to Omar Mullan.
In the second period, John Rey took a pass from Tyler Deresky and sent a puck on net from the left point that went off the inside of the left post and into the net at the 2:49 mark and Amarillo took a two goal lead.
The IceRays responded on the power-play at 3:45 of the second period as Rudy Sulmonte buried a rebound by Bulls goaltender Paul Berrafato for his first of the playoffs and Corpus Christi split the Amarillo lead in half 2-1. The assists were credited to Emil Romig and John Roisum.
Corpus Christi caught a bad bounce as TJ Sherman sent a floating shot to the net that deflected and trickled by Hayden Stewart regaining the Bulls their two goal lead, unassisted, at the 10:25 mark of the second period for a 3-1 lead.
The NAHL regular season champions took a 4-1 lead while on the power-play as Brady Ferguson hit Geoff Fortman with a pass and a wide open net for his first of the playoffs with just 1:48 remaining in the period. The other assist credited to Ryan Cole.
Just like the first two games of the series, Corpus Christi stormed back in the third period and it started with some luck as Brandon Berkley sent the puck on net from the goal line. Paul Berrafato had it deflect off the inside of his right leg and into the net just 23 seconds into the final period as the Rays' trailed 4-2.
Corpus Christi had a great chance short-handed as Charles Baldwin went in on a breakaway but Paul Berrafato made the save and that would be key in the final outcome.
The IceRays struck on the power-play though as Rudy Sulmonte picked up his second goal of the game at 13:28 on another rebound goal assisted by Mike Economos and Emil Romig providing a one goal deficit for Corpus Christi at 4-3.
However on a delayed penalty call, John Rey scored his second of the game to seal the 5-3 victory and the Bulls took a 2-1 series lead in the best of five semifinal matchup.