Fighting Falcons blank Janesville on Thursday, 5-0
March 28, 2013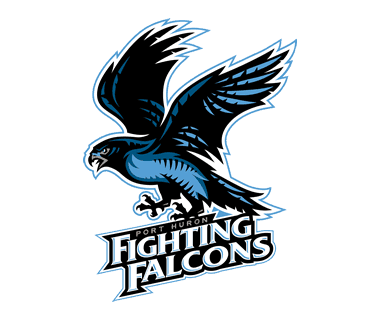 By Anthony Odoardi, Times Herald
Janesville 0 @ Port Huron 5 - For several reasons, Thursday night's win was exactly the Fighting Falcons needed. First, the 5-0 triumph over Janesville at McMorran Arena propelled the Falcons into a tie for fourth place in the North American Hockey League North Division. Having already clinched a playoff berth, the final two games of the season are about getting home-ice advantage while avoiding a trip to Johnstown, where the team draws the most fans in the division per game (2,527) and fifth-most in the NAHL.
"We've played well (there), so we're not afraid to go there," Falcons coach Mike Gershon said. "But I don't think anybody wants to make a road trip they don't have to."
Second, it was played — for the first two periods — with similar intensity to a playoff game, making it one the Falcons can draw experience from entering the postseason slate next week.
"These are experiences that, when it comes to playoffs, you want to take," Gershon said. "This is a three-game series we have with Janesville and we won all three. So if that's a playoff series best-of-five, you win the series. … It's another step on how to win the deciding game because those are always the hardest."
Aside from the third period, the game was a close, hard-fought game the Falcons can expect to see throughout the playoffs. The Falcons wanted fourth place, the Jets wanted to keep their playoff hopes alive. Playing on that level is an encouraging sign going forward.
Port Huron goalie Max Milosek's shutout was also an encouraging sign. Although not making the highlight-reel saves — the Falcons controlled the puck most of the night -- he still stopped 26 shots.
"He was phenomenal tonight," Mick Bruce said. "Probably one of the best games all year. Just could not get the puck past him."
For the first 16 minutes the game went back-and-forth with both teams recording the same number of scoring chances. After Kyle Plageman put Port Huron on the board with a shorthanded goal, the game leaned heavily in the Falcons' favor.
Easton Powers added another goal in the second period, sending the puck in front of the crease and watching as it pin-balled off a Jets' skate and into the net. In the third period, Vito Aluia scored and Bruce added two more, matching his goal total for the entire season in about two minutes.
"From the (first) goal on, we just took over, started to dominate and imposed our will," Gershon said. "It's just another really good game we've played in this stretch here."
The Falcons are currently the hottest team in the division, riding a six-game winning streak and not losing in March. They are 11-3 over the last two months of the season heading into Friday's game against the Michigan Warriors.