Jamestown tops Fresno on Thursday, 7-4
February 14, 2013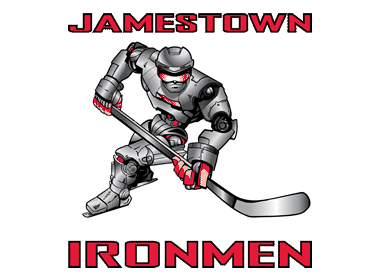 Fresno 4 @ Jamestown 7 - The Jamestown Ironmen rolled to a 7-4 victory over the Fresno Monsters Thursday night in the lone North American Hockey League game, which took place at the Jamestown Savings Bank Arena.
Jamestown was led by forward, Tyler Dunagan, who scored a hat trick, compiling three goals throughout the contest.
Fresno actually struck first on a goal from Jacob McDowell and hung onto a 1-0 lead until Dylan Zink buried a slap shot on a powerplay to tie the game up, 1-1 with 6:28 left in the first period. The Ironmen struck again less than four minutes later as Ryan Urso scored off of a flashy pass from Daniel Cesarz.
The second period belonged to home team, as the Ironmen outscored Fresno, 3-0. Dunagan netted two of his three goals in the period; one unassisted and one with the dish from Aaron Scheppelman. Luc Gerdes also buried his first goal of the evening.
In the final period of regulation, Tyler Shipstad scored for Fresno to make it 6-2, but Gerdes buried his second on the night and 24th of the season for the Ironmen to make it 7-2. After a power play goal from Fresno's Newton Fuller, Dunagan got in on the action for the last time as he rounded out the hat trick with a powerplay goal. Trevor Husch rounded out the game's scoring for Fresno with a late shorthanded goal.
Joey Ballmer made 19 saves and earned the win in goal for the Ironmen, while Tomas Sholl took the loss for Fresno, making 23 saves.