USA Hockey Magazine spotlights success of Johnstown Tomahawks
January 31, 2013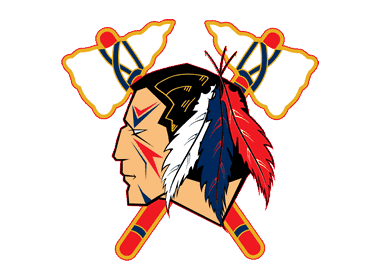 By Joe Sager, USA Hockey Magazine
To borrow a line from Maxine Nightingale's catchy 1970s pop hit, hockey fans in Johnstown, Pennsylvania, are right back where they started from.
The song that was featured in the iconic 1977 hockey movie "Slap Shot," which was filmed in Johnstown, has long been the theme song for residents in the small Pennsylvania city, located about 70 miles east of Pittsburgh.
That's because hockey is back in Johnstown with the debut of the Tomahawks, a team in the Junior A North American Hockey League (NAHL).
The sport has a rich tradition in Johnstown as the city has played host to many minor professional squads throughout the past six decades. Also, it spawned the classic hockey film, which starred Paul Newman and was based on the 1974-75 Johnstown Jets season.
Even with its proud hockey heritage, the city found itself without any high-level hockey when the ECHL's Johnstown Chiefs moved to Greenville, S.C., in 2010 after a 22-year run in the city. The move stunned the hockey community in the area, especially Rick Boyd, a former Chiefs star player and assistant coach.
"I sat there during the last Chiefs game and reflected. If it wasn't for the Chiefs, I wouldn't have met the woman I married or have the kids I have," said Boyd, now the Tomahawks' general manager and director of hockey operations.
"When the Chiefs left, it was a sad moment. It wasn't a good feeling, but at the same time it was a chance to pick up the pieces. We all went to work after that final game."
The ECHL's Wheeling Nailers played 10 games at Johnstown's Cambria County War Memorial Arena in 2011 and 2012, but Johnstown's fans craved their own team. That's when an ownership group, featuring minority owners and former NFL players Jack Ham and Shane Conlan, purchased the NAHL's Alaska Avalanche, relocated the team to Johnstown and rebranded them as the Tomahawks.
The only question was, would Johnstown fans embrace a Junior hockey team after watching decades of professional hockey? Tomahawks head coach Jason Spence, who spent seven seasons as a player and another as an assistant coach for the Chiefs, just wanted a chance to convince them.
"There was a lot of curiosity. There have been a lot of people who watched the Chiefs and Jets and the teams who were here for years. Now, the players are 20 years old and under. It's different and there was skepticism," Spence said. "I talk to a lot of these people, and I know a lot of them on a personal basis. I just told them they have to come see one game and they'll be hooked.
"When they came and saw it, they realized these guys are playing for their hockey lives, playing for a college scholarship. It's a different level of hockey, but it's the same brand of Johnstown hockey."