Jets win prestigious community service award
January 29, 2013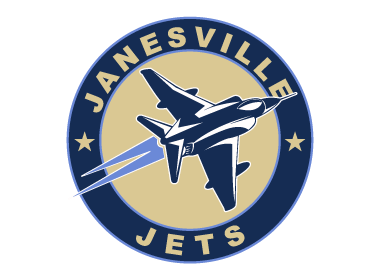 The Janesville Jets of the North American Hockey League (NAHL) received the very special Community Improvement Award at the Thirteenth Annual Forward Janesville Awards Banquet at the Pontiac Convention Center on Thursday, January 24th.
Forward Janesville, which leads private sector economic and community development efforts throughout Rock County, chose the Janesville Jets organization from numerous submitted nomination forms. The main criteria for this award was the winner "must have demonstrated exemplary contributions to the well being of the Janesville Community."
Since October 1, 2012, under the guidance of new Head Coach Joe Dibble and Operations/Community Relations Manager Greg Hanthorn, the Janesville Jets players have provided over 850 hours of community service to date.
"It is a privilege for our players to be playing hockey in this community, and we try to give back to the community as much as we can, especially around the holidays," stated Jets Head Coach Joe Dibble. "Our players are looked up to in Janesville and throughout Rock County, and it's not only because they play hockey for the Jets. It's also because the amount of time the players volunteer to help various non-profit organizations, hospitals, schools and churches."
"As an organization it has been one of our top priorities to get out and make a difference in our Community" says Jets Operations Manager Greg Hanthorn. "Janesville has opened it's arms and homes to our players, and they know the importance of giving back".
Some of the organizations the Jets players have supported so far this season include: Boy & Girls Club, Clinton Community Food Bank, ECHO, HealthNet, Janesville Youth Hockey, LaborFest, and the Salvation Army as well as activities ranging from school reading programs, park clean-ups and painting the Janesville Ice Arena bleachers.
Dibble added, "Our players realize there is more to playing junior hockey then just going to the rink everyday. They must be very good role models, giving back to the community and being a great citizen."