NAHL announces monthly player awards for November
December 5, 2012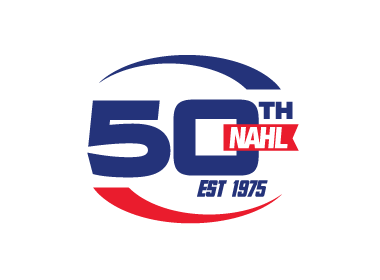 The North American Hockey League (NAHL) has announced its monthly player awards for the month of November. The Combat Hockey NAHL Forward of the Month for November is Kyle Sharkey from the Topeka RoadRunners. The Combat Hockey NAHL Defenseman of the Month for November is Casey Nelson from the Johnstown Tomahawks. The Brian's Custom Sports NAHL Goaltender of the Month for November is Robert Nichols from the Wenatchee Wild. Only players who are nominated by their respective teams are considered for the NAHL monthly awards.
Combat Hockey NAHL Forward of the Month: Kyle Sharkey, Topeka RoadRunners
Topeka RoadRunners veteran forward Kyle Sharkey, 20, shined during the month of November. The forward from Moore, Oklahoma is currently riding a 12-game point streak, the second longest to date this season in the NAHL, and that was bolstered by Sharkey registering at least a point in all nine games he played during the month. During those nine games, Sharkey (5'8/175) had 16 points (8 goals, 8 assists), two game-winning goals and was a +6 as the RoadRunners moved themselves into 1st place in the South Division. Thanks to his big month of November, Sharkey is currently tied for 2nd in league scoring with 35 points in 26 games played.
Now in his third season in the NAHL, it has all led to Sharkey having a career season. Less than halfway through the season, he has already set career highs for goals and points. Sharkey is a true developmental ladder success story. Before joining the RoadRunners, Sharkey played for the Pikes Peak Miners 18U team of the North American Prospects Hockey League (NAPHL) during the 2009-10 season, where he was second in team scoring. "Kyle puts the stress and responsibility of winning and team success squarely on his back and that is something I think is unique and special about him, and a big reason why he is respected in the lockerroom," said Topeka head coach Scott Langer. "He is one of our go-to guys and is determined to leave his mark on the RoadRunners franchise. He is the type of player that spends an endless of amount of time on the ice trying to always improve. His determination is a big reason why I think bigger things are ahead for him."
Sharkey said that his success and production in the month of November was largely due to his teammates. "Playing with the guys on my line (Sean Gaffney and Tyler Andrew) has really helped me have success. We have a pretty special bond and being able to trust them and know they have my back, makes it easier to play and produce," said Sharkey. "Scott Langer has had a lot to do with my growth and development as a player, and we sat down before the season and set up some goals. I want to get better and better as the year goes along so by the time the playoffs come around, we are all playing our best hockey of the season." Sharkey said that his time developing in the NAHL has been a memorable one and he has a few short-term goals for the remainder of the season. "I would like to continue to play hockey at the NCAA Division I level and help Topeka win a Robertson Cup, so everything I am focused on right now is working towards those two things."
Runner-Up: Scott Conway, Texas Tornado
Honorable Mention (alphabetical): Hunter Anderson, Coulee Region Chill – Jacob Barber, Wenatchee Wild – Garret Clemment, Fairbanks Ice Dogs – Lawrence Cornellier, Odessa Jackalopes – Luc Gerdes, Jamestown Ironmen – Eliot Grauer, Wichita Falls Wildcats – Mitch Kontny, Johnstown Tomahawks - Patrick Moore, Bismarck Bobcats – Omar Mullan, Amarillo Bulls – Jake O'Borsky, Minot Minotauros – Robbie Payne, Kalamazoo Jr. K-Wings – Eric Rivard, Soo Eagles – Emil Romig, Corpus Christi IceRays.
Previous Winners: September 2012, Jono Davis, Wenatchee Wild – October 2012, Brandon Hawkins, Texas Tornado.
Combat Hockey NAHL Defenseman of the Month: Casey Nelson, Johnstown Tomahawks
It is rare that a team has a defenseman lead them in scoring during any month of the season, but that is exactly what occurred during November in Johnstown. Tomahawks defenseman Casey Nelson, 20, lead his team in scoring during the month with nine points (3 goals, 6 assists) in seven games played as the Tomahawks went 5-1-1 during that timeframe and firmly planted themselves as one of the contenders in the North Division. The native of Wisconsin Rapids, Wisconsin, recorded a point in all but two games during the month and his performance during the week of November 19th earned him North Division Player of the Week honors in the NAHL. His 18 points to date is currently tied for 3rd among NAHL defensemen.
Nelson (6'1/174) spent the last two seasons playing for the Alaska Avalanche in the NAHL. However, when the Avalanched were sold and relocated over the summer to Johnstown, PA, Nelson jumped at the opportunity to continue his NAHL playing career. Tomahawks head coach Jason Spence said that Nelson's play and productivity on the ice is due to his determination. "Casey is a player that is starting to see things happen because he is a very hard working player. He came in here from Day 1 and bought into the system, the new team in Johnstown and accepted his role as a leader," said Spence. "He has a tremendous amount of speed and is able to get up the ice quickly and transition into offense. His first couple of strides really enables him to separate from defenders and create space."
"I think looking back on November, I would have to say that I was able to have some success because our entire team really came together. There was a lot of cohesion in the lockerroom and that translated into everyone playing better," said Nelson. "Our power play really started to click and once you get used to your teammates habits on the ice, it makes everything a little easier." Nelson said that his time in Johnstown has been a memorable one thus far. "I think the thing that really stands out is the fan support. We have a great set-up and situation here and playing in front of thousands of fans, who show their support no matter if we win or lose, really makes me happy with the decision to play my last junior season here. I think we have a team who can contend for a Robertson Cup and I am hopeful I can keep playing well and work towards a Division I opportunity."
Runner-Up: Levi Blom, Bismarck Bobcats
Honorable Mention (alphabetical): Brett Beauvais, Kalamazoo Jr. K-Wings – Dave Dalbec, Minot Minotauros – Michael Hoy, Texas Tornado – Michael Lant, Soo Eagles – Michal Pastor, Topeka RoadRunners – John Rey, Amarillo Bulls – John Roisum, Corpus Christi IceRays – Derek Smith, Coulee Region Chill – Dylan Zink, Jamestown Ironmen.
Previous Winners: September 2012, Mark Evan Auk, Port Huron Fighting Falcons – October 2012, Cody Dixon, Austin Bruins.
Brian's Custom Sports NAHL Goaltender of the Month: Robert Nichols, Wenatchee Wild
No stranger to earning NAHL awards, Wenatchee Wild goaltender and Dallas, Texas native Robert Nichols, 20, had his best month of the season in November, which earned him the NAHL Goalie of the Month Award. Nichols, who is already committed to playing for the University of Connecticut next season, came into this season having won both the Goalie of the Year and Rookie of the Year awards during the 2011-12 season along with Odessa's Connor Hellebuyck. However, this season has been different because Nichols has been the #1 starter since the beginning of the season and that has translated into continued success. The Wild played in just five games during the month, going 4-0-1, but Nichols (5'10/177) was in goal for all of them as he posted a 1.49 goals against average and a 93.6% save percentage during the month. Nichols, who set an NAHL record a season ago with 10 shutouts, already has four this season (including one in November) to lead the NAHL in that category.
Nichols success has come under and new head coach and a new system, which is a true testament to his ability to be successful in any environment and circumstances. Wild head coach Bliss Littler knew that after having a record-breaking season last year and a NCAA Division I commitment in hand, that Nichols had to be challenged in different ways this season. "I knew coming in that I wanted us to play an up-tempo, high-pressure style of game. However, in order to do that you have to have a goalie on the back end who is going to come up with some big saves, because you are also going to give up some chances playing that way. You have to have a goalie that doesn't get rattled and can make big saves on odd-man situations. I think knowing we had Robert back in goal gave us confidence we could play that way this season," said Littler. "I wanted to really push him this season to become a goaltender that can play every night and be that #1 go-to guy. I also want him to be a goaltender that can be good enough to go into the NCAA next season and compete to be the starter as a freshman."
Nichols said that this season has been some validation for him from a season ago. "I think the common feeling was last year that the numbers and success was a product of the system instead of the player, so I entered this season with something to prove. We had such a great defensive team, but I want to prove that no matter what type of system I play under that I can be the go-to guy and a goalie that can win hockey games," said Nichols. "I constantly push myself to be better because I know that is the only way I am going to be able to take my career to the next level in the NCAA. I also want to be the best for my team and teammates this season. I know to win a Robertson Cup you have to have good and consistent goaltending. Our team likes to play fast and aggressive this season under Coach Littler, so I know there are going to be good scoring opportunities sometimes for our opponents, so it is my job to be ready and make sure my teammates know that I going to be there for them. I think we play our best hockey that way."
Runner-Up: Zach Nagelvoort, Soo Eagles
Honorable Mention (alphabetical): Kevin Aldridge, Fairbanks Ice Dogs – Blake Cates, Coulee Region Chill – Evan Cowley, Wichita Falls Wildcats – Phil Heinle, Odessa Jackalopes – Matt Leon, Springfield Jr. Blues – Aaron Nelson, Bismarck Bobcats – Alex Okicki, Kalamazoo Jr. K-Wings – Tyler Parks, Minot Minotauros – Tim Shaughnessy, Jamestown Ironmen – Hayden Stewart, Corpus Christi IceRays – Chris Truehl, Johnstown Tomahawks – Spencer Viele, Topeka RoadRunners.
Previous Winners: September 2012, Drew Weigman, Brookings Blizzard – October 2012, Tyler Marble, Soo Eagles.
About Combat Hockey
The Official Equipment Supplier of the NAHL, Combat Sports has been extremely successful the past 10 years as the fastest-growing North American baseball/softball bat, hockey stick and lacrosse shaft manufacturing company. Visit Combat online here.
About Brian's Custom Sports
The Official Goaltending Equipment Supplier of the NAHL, Brian's has been a leading Canadian supplier of custom built goal equipment since 1984. The factory is located in Kingsville, Ontario near the Southern tip of Canada with ready access to supplying the North American market. As one of the original and remaining custom goal equipment manufacturers Brian's remains committed to continuing to lead the industry with exceptional design and quality. Visit Brian's online here.