Gongshow Flow of the Month winners announced for November
December 1, 2012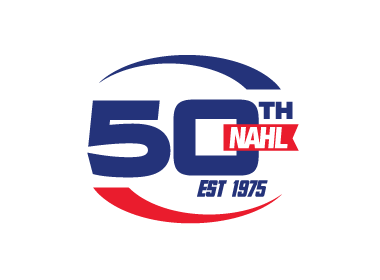 The North American Hockey League (NAHL) announced its Gongshow Flow of the Month winners for November 2012. This month awards go to NAHL player Pat Gazzillo, a defenseman for the Soo Eagles and Paul Sorensen, a defenseman for the Minot Minotauros.
Honorable Mentions went to (alphabetical): Tyler Bruneteau, Wenatchee Wild – Omar Mullan, Amarillo Bulls – Tyler Groat, Topeka RoadRunners – Josh Taylor and Tristan Dean (Fans).
Players in November were not only judged by their flows, but also by their mo's. Gongshow and the NAHL teamed up for their 'Movember' campaign, as NAHL coaches, staff and players supported Men's health and cancer awareness by growing all kinds of mustaches. Players and fans were not only encouraged to submit their best 'flows' at the end of the month, but also their best 'mo's' to show off their mustaches in support of the NAHL's Movember campaign.
Gazzillo, who is a 17-year-old defenseman for the Soo Eagles from Crown Point, Indiana, is having a great season thus far. He has seven points in 23 games played and is a +7 this season. However, Gazzillo is a double-threat kind of guy taking one look at his November flow and mo (mustache). Gazzillo's flow is thick and protruding all around his head from top to bottom and side to side. In addition, he has grown a Trucker/Fu Manchu mustache that renders him a dead ringer for a 'Sons of Anarchy' cast member. Simply lining up from across his opponent surely puts a certain amount of fear in them.
The other award for November went to Paul Sorensen, a 20-year-old defenseman from Bismarck, North Dakota, who plays for the Minot Minotauros. The Minotauros are on a five game winning streak and taking one look at Sorensen's mustache and flow, it is easy to understand why. A little bit of winning magic has to be coming from that lethal combination. His hair speaks for itself… curly mullet in the back, slicked top… truly indicative of a hockey player. However, Sorensen takes it to the next level with his Handlebar mustache. It is one made popular back in the early 1900's and its curl at the end resembles that of baseball pitching legend Rollie Fingers.
During the month of December, there is no better way to ring in the holidays that with a good flow. A nice flow during the month of December is a great compliment to ugly Christmas/Holiday sweater parties, opening presents, visiting Santa Claus or ringing in the New Year. All those submitting pictures are encouraged to do so while wearing their ugliest Christmas/Holiday sweater for bonus points and special consideration.
To enter the contest for the month of December, submit your best #Flow of the Month pictures by December 31st to @NAHLHockey and @GongshowGear. Two winners will be selected on January 1st. Winners will receive a Gongshow Gear hat.
Gongshow is the exclusive sponsor of the Flow of the Month promotion exclusively on the NAHL and Gongshow Twitter sites. Fans and players alike are encouraged to submit photos of their best 'hockey hair' or 'flow' via Twitter by the end of every month during the regular season.
Gongshow Gear Inc. (Gongshow) is the Official Lifestyle Hockey Apparel of the NAHL. Gongshow is also the sponsor of the NAHL TV platform on the NAHL website at NAHL.com. Gongshow is recognized as the hockey good industry's premier manufacturer of innovative, high quality, fashionable and trend setting clothing apparel for hockey athletes of all ages and abilities.