Jamestown goalie Mimmack makes NCAA DI commitment
November 27, 2012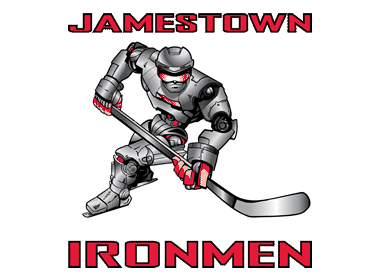 The Jamestown Ironmen, proud members of the North American Hockey League (NAHL), are pleased to announce that goaltender Reid Mimmack has committed to play hockey at Bemidji State University, an NCAA Division I college in Bemidji, Minnesota.
The Bemidji State Beavers are part of the Western Collegiate Hockey Association (WCHA) and over 60 alumni have gone on to play professional hockey including in the National Hockey League and international professional leagues.
Mimmack, a native of Brainerd, Minnesota is having a great season so for in goal for the Ironmen of the North American Hockey League. Mimmack boasts a 12-4 record as a starter while posting a .916 save percentage. Reid has one shutout victory, which was the first shutout in the short history of the Jamestown Ironmen. He has 394 saves thus far with an average of 2.36 goals allowed per game.
"This is very exciting for Reid as well as his teamates and for us as coaches," said Ironmen Head Coach Dan Diakawa. "It's a great thing when one of our young men can move on to pursue their goals as a hockey player, we are very proud of Reid and the job he is doing on the ice for us this season."
Reid will be attending school at Bemidji State in the Spring semester beginning in January. This season is Mimmack's third in the NAHL. In those three seasons, Mimmack has appeared with five different NAHL teams (Jamestown, Aberdeen, Texas, Chicago and Springfield).
See an updated NAHL college commitment list here