Falcons defenseman Auk makes NCAA Division I commitment
November 5, 2012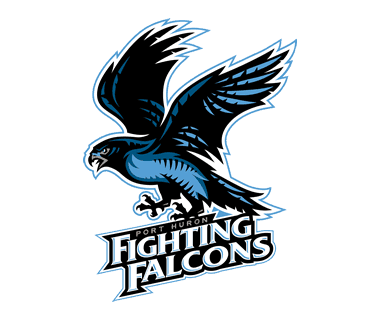 The Port Huron Fighting Falcons, proud members of the North American Hockey League (NAHL) are pleased to announce the commitment of defenseman Mark Evan Auk to play NCAA Division I hockey at Michigan Tech University, a member of the Western Collegiate Hockey Association (WCHA).
Auk, a 17-year-old defenseman from Grosse Point Park, Michigan, is currently in his first year with the Fighting Falcons after leading the University Liggett Knights to the Div. 3 Michigan State High School Hockey Championship last year. Auk ranks in the Top 10 in scoring for all NAHL defensemen with two goals and nine assists for 11 points in 20 games.
"Mark Evan is just starting to develop into a top defenseman and Michigan Tech will be getting an excellent player and person when Mark Evan steps on that campus," said Head Coach/GM Michael Gershon on Mark Evan's commitment. "We have tried to make sure that he is playing two-way hockey, but his offensive abilities have shined through. He takes good care of the puck and continues to be a very pleasant surprise for us this season."
Auk was named the Combat Hockey NAHL Defenseman of the Month back in September, where he recorded eight points from the blueline (2 goals, 6 assists) in 10 games played during the month, helping the Fighting Falcons to 1st place in the North Division during the month.
"It has been the best year so far for me in hockey wise and I have learned a lot in just the couple of months that I have been here," said Auk. "At this level, mistakes can really cost you so I have tried to make smart decisions with and without the puck. I think we have a smart and experienced team. We get better as the game goes along and I think that has played into our success thus far."
Mark Evan becomes the second player to commit to college this season for the Port Huron Fighting Falcons after Ian Miller had previously committed to Lake Superior State.