Warriors continue tradition of helping with food drive
October 25, 2012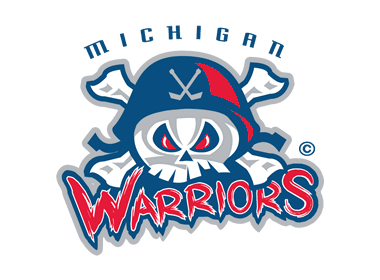 Members of the Michigan Warriors, proud members of the North American Hockey League (NAHL), all helped out and assisted with a food drive at a local elementary school this past week. A food truck was at the Richfield Public School Academy to provide meals to community families who may not have a fresh meal this time of year and for the upcoming Thanksgiving holiday.
Over 500 homes in the area, as well as, family members of children in need who attend the school were informed of the food giveaway, and the Michigan Warriors players volunteered their efforts to help distribute the food.
"We were honored to continue this annual tradition of helping those in the area that are less fortunate and our players really stepped up in helping out," said Warriors' head coach Moe Mantha. "The guys really enjoy helping out and I was really proud of them. It really gives all of them a true dose of reality. They realize after helping out with something like this that there is more to life than wins and losses. It tells you a lot about the character we have on the team this year and that we are very thankful for what we have and wanted to give back in some way."
Krista Ketterer, a teacher at Richfield, explained how this opportunity came about and how the Warriors remain involved.
"The school has been working with the Food Bank of Eastern Michigan for over a year now," said Ketterer. "The only condition about having a mobile food bank at the school was that they needed 25 volunteers to unload the truck – that is where the Warriors came into play. We may have the numbers when it comes to staff, but we do not have the time. There is no way that we could have the food truck arrive after school, unload it and then serve families."
Richfield has a very high percentage of students that receive free and/or reduced lunch. This food truck will not only help out the families at the school, but also anyone from the community. "Without the help and support of the Warriors, we would not be able to participate in this program that our families so desperately need," added Ketterer. "We would have needed to decline the wonderful offer that the food bank had given us. It's a win-win for everyone."