NAHL announces Combat Hockey Divisional Stars of the Week
October 1, 2012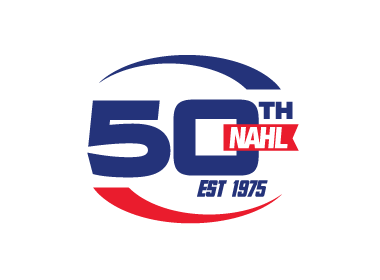 The North American Hockey League (NAHL) today announced the Divisional Stars of the Week presented by Combat Hockey for the week ending September 30, 2012. The Divisional Stars of the Week is a weekly feature during the 2012-13 regular season that honors the top performing players in each of the four NAHL divisions as nominated by their respective teams.
Central Division Star of the Week: Drew Weigman, goaltender, Brookings Blizzard
It was quite a week for Brookings goaltender Drew Weigman, 18. The native of Arnold, MD, stopped 71 of a combined 73 shots in a weekend home-and-home sweep of their rival, the Aberdeen Wings. Weigman stopped 34 of 36 shots on Friday in Brookings home opener, which was a 3-2 win over the Wings. On Saturday, Weigman (6'1/185) was even better as he stopped all 37 shots in a hostile environment in Aberdeen in a 2-0 shutout win. "Drew has earned the #1 spot and has played even better since we gave him that role. We had some penalty problems in each game and he really made some big saves during the penalty kills. He really came to play at the start of the second game in Aberdeen and allowed us to hang in there," said Blizzard head coach Cory Laylin.
2nd Star: Jay Dickman, forward, Austin Bruins
Honorable Mention (alphabetical): Josh Bretner, defenseman, Austin Bruins – Lucas Oliver, forward, Minot Minotauros – Brandon Parker, defenseman, Brookings Blizzard – Ryan Ruck, goaltender, Minot Minotauros.
North Division Star of the Week: Max Milosek, goaltender, Port Huron Fighting Falcons
Port Huron is in 1st place in the North Division with an 8-2 record, thanks in large part to the play of this week's star, goaltender Max Milosek, 19. The native of Lapeer, MI, won both games this past weekend in a home-and-home series with 2nd place Kalamazoo, stopping 61 of a combined 63 shots. On Saturday, Milosek made 27 saves in a 4-1 win at home. On Sunday, Milosek (5'10/175) was even better in Kalamazoo, as he made 34 saves in a 5-1 win. Milosek leads the NAHL in wins with seven. "Max has been so solid all year and really stabilizes our team. We have been outshot a number of times and he has kept us in there and gives us a chance to win every night. We would not be in 1st place if it weren't for Max. He really stepped it up with the rivalry and games this weekend against Kalamazoo," said Port Huron head coach Steve Shannon.
2nd Star: Michael Covach, forward, Soo Eagles
Honorable Mention (alphabetical): Alex Baskakov, defenseman, Springfield Jr. Blues – Nate Chasteen, forward, Springfield Jr. Blues - Jason Ford, forward, Janesville Jets – Cameron Heath, defenseman, Kalamazoo Jr. K-Wings – Bryan Kronberger, defenseman, Janesville Jets – Alex Taulien, forward, Soo Eagles - Bryan Yim, forward, Port Huron Fighting Falcons.
South Division Star of the Week: Kyle Sharkey, forward, Topeka RoadRunners
Sharkey, 20, had one of the best offensive weekends of the year so far in the NAHL as the native of Moore, OK, registered seven points (4 goals, 3 assists) in a weekend road sweep against the Corpus Christi IceRays. Sharkey's best performance of the weekend came on Friday when he had a hat-trick (including the game-winning goal) and two assists for a five-point night in an 8-4 win. The next night, Sharkey (5'8/175) had a goal and an assist in a 3-1 win over the IceRays. Sharkley leads the team in scoring with 10 points in seven games played so far this year. "We had been struggling to score, so the burst of offense led by Kyle was great. Kyle put the team on his back and really set the tone the first night. Kyle is all about team and doesn't care about the individual numbers. As a third year player, he has paid is his dues and has improved to be a very good player," said Topeka head coach Scott Langer.
2nd Star: Sean Gaffney, forward, Topeka RoadRunners
Honorable Mention (alphabetical): Perry D'Arrisso, forward, Corpus Christi IceRays – Tyler Deresky, forward, Amarillo Bulls – Sam Johnson, defenseman, Amarillo Bulls – Hunter Leisner, goaltender, Texas Tornado – CJ Reuschlein, forward, Texas Tornado – Mason Wyman, forward, Odessa Jackalopes.
West Division Star of the Week: Robert Nichols, goaltender, Wenatchee Wild
Nichols, 20, was the glue behind Wenatchee's weekend road sweep in Bismarck as the Wild remained perfect on the season. The Dallas, TX, native stopped a combined 31 of 32 shots over the weekend as the Wild shut down the Bismarck offense. On Friday, Nichols (5'10/177) had to make 14 saves in a 3-1 win. On Saturday, Nichols was set for a night off, but after two quick Bobcats goals, Nichols was put in goal and shut the door for the rest of the 56+ minutes stopping all 17 shots that came his way. Nichols has a perfect 5-0-0 record so far this season. "Robbie makes the saves we need him to make to keep us in games. He came in on Saturday and changed the momentum from the moment he got into the game. He is taking his success from last year and building upon it this year and we are excited to have him back in goal," said Wenatchee head coach Bliss Littler.
2nd Star: Nick Hinz, defenseman, Fairbanks Ice Dogs
Honorable Mention (alphabetical): Chris Kerr, forward, Wenatchee Wild – Devin Loe, forward, Fairbanks Ice Dogs – Matt Seidel, forward, Kenai River Brown Bears.