Gongshow Flow of the Month winners for September announced
October 1, 2012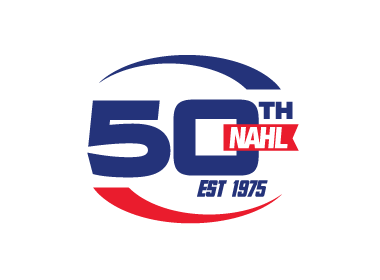 The North American Hockey League (NAHL) announced its Gongshow Flow of the Month winners for September 2012. This month, two NAHL players were honored, as the awards went to goaltender Jett Salinas from the Corpus Christi IceRays and forward Tyler Cayemberg from the Odessa Jackalopes
Honorable Mentions went to (alphabetical): Sean Campbell, Kalamazoo Jr. K Wings - Brad Pung, Texas Tornado - Jordan Watt, Johnstown Tomahawks.
Salinas, a goaltender from Hollywood, California, is already in mid-season form with his flow. The long flowing hair complete with blond highlights is truly a work of art and puts him the 'hollywood' category with the likes of Patrick Swayze from the movie 'Point Break' and Brad Pitt from his starring role in 'Legends of the Fall.' Salinas has posted a 2-2-1 record in goal this year so far for the IceRays and has a goals against average of 3.75 and a save percentage of 87.3%.
The other award for September went to Tyler Cayemberg. The Milwaukee, Wisconsin native has taken one out of the hockey classics book with his old school mullet. It's all business up front complete with a slicked back style, but in the back it is a party as the curls come out with a nice mullet that protrudes down to the shoulders. This is Cayemberg's second season with the Jackalopes and so far this season he has one point in six games played.
Gongshow is the exclusive sponsor of the Flow of the Month promotion exclusively on the NAHL and Gongshow Twitter sites @NAHLHockey and @GONGSHOWGEAR. Fans and players alike are encouraged to submit photos of their best 'hockey hair' or 'flow' via Twitter by the end of every month during the regular season.
To enter the contest for the month of October, submit your best #Flow of the Month pictures by October 31st to @NAHLHockey and @GongshowGear. Two winners will be selected on November 1st . Winners will receive a Gongshow Gear hat.
During the month of November, Gongshow and the NAHL will team up for their 'Movember' campaign, as NAHL coaches, staff and players will support Men's health and cancer awareness by growing beards and mustaches. Gongshow will be providing the prize pack to the team that raises the most funds.
Gongshow Gear Inc. (Gongshow) is the Official Lifestyle Hockey Apparel of the NAHL. Gongshow is also the sponsor of the NAHL TV platform on the NAHL website at NAHL.com. Gongshow is recognized as the hockey good industry's premier manufacturer of innovative, high quality, fashionable and trend setting clothing apparel for hockey athletes of all ages and abilities.