NAHL announces Divisional Stars of the Week
September 24, 2012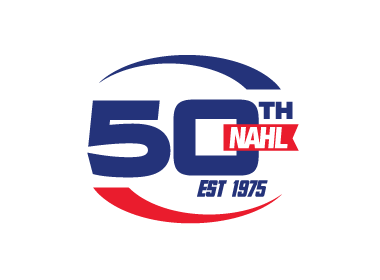 The North American Hockey League (NAHL) today announced the Divisional Stars of the Week presented by Combat Hockey for the week ending September 23, 2012. The Divisional Stars of the Week is a weekly feature during the 2012-13 regular season that honors the top performing players in each of the four NAHL divisions as nominated by their respective teams.
Central Division Star of the Week: Bryan Nies, goaltender, Bismarck Bobcats
Nies, a goaltender from Grand Forks, North Dakota, helped shut the door on the Fresno Monsters this past weekend as he was between the pipes for both wins in a weekend home sweep. Nies, 19, was in goal for back-to-back, 2-1 wins as he stopped 55 of a combined 57 shots, which was good for a 96.5% save percentage and a 1.00 goals against average. His best performance came on Saturday, as he made 35 saves, allowing just the lone goal. For the season, Nies (5'10/185) has a 3-1-0 record with a 1.75 GAA and a 93.3% save percentage. "Entering a season where we had some questions in goal, Bryan has been very good for us so far and really stepped up," said Bobcats head coach Layne Sedevie. "He is giving us a chance to win every night and has played very consistent."
2nd Star: Rory Vesel, defenseman, Bismarck Bobcats
Honorable Mention (alphabetical): None
North Division Star of the Week: Luc Boby, forward, Kalamazoo Jr. K-Wings
Kalamazoo forward Luc Boby, 20, leads the NAHL in goals with seven, thanks in large part to his five goal outburst this weekend as Kalamazoo split a weekend road series against the Soo Eagles. On Friday, Boby (6'3/208) scored both goals in a 4-2 loss against the Eagles. On Saturday, with his team down 3-1, the Oswego, Illinois native scored goals two, three, and four all in a row and all in successive periods as Kalamazoo went on to a 6-4 come-from-behind win. Boby has 10 points on the season and is currently riding a four-game point streak and a three-game goal streak. "Luc carried the team on his back this weekend. He scored some real timely goals and has been a great addition to the team. He has worked real hard to get where he is now and we hope he continues to better as the season goes along and earn himself a NCAA Division I opportunity," said Jr. K-Wings head coach Marc Fakler.
2nd Star: Tyler Marble, goaltender, Soo Eagles
Honorable Mention (alphabetical): Josh Dangel, forward, Kalamazoo Jr. K-Wings – Jason Ford, forward, Janesville Jets - Reid Mimmack, goaltender, Jamestown Ironmen – Ryan Nick, defenseman, Port Huron Fighting Falcons – Daniel Rehnstrom, forward, Port Huron Fighting Falcons – Evan Ritt, forward, Jamestown Ironmen – Jared Van Wormer, forward, Soo Eagles – Austin Vieth, forward, Janesville Jets.
South Division Star of the Week: Evan Cowley, goaltender, Wichita Falls Wildcats
Wildcats goaltender Evan Cowley, 17, began the week by being named to the NHL Central Scouting watch list and being selected to be in the USA Hockey All-American Prospects Game. The native of Evergreen, Colorado ended the week by posting back-to-back shootout home wins over the Corpus Christi IceRays to move the Wildcats into a tie for 3rd place in the South Division. For the weekend, Cowley (6'4/185) stopped 58 of 63 shots for a 92.1% save percentage and a goals against average of 2.40, but really shined in the shootouts, where he stopped nine of 10 IceRays shooters to earn the Wildcats the valuable four points. "I think in total, Evan faced about 14 breakaways during the weekend and stopped all but one of them, so that is a testament to his natural ability. He is learning at a really fast pace and has already adapted to the level of play in the NAHL," said Wildcats head coach Paul Baxter.
2nd Star: Eliot Grauer, forward, Wichita Falls Wildcats
Honorable Mention (alphabetical): Kyle Sharkey, forward, Topeka RoadRunners.
West Division Star of the Week: Gustaf Johansson, goaltender, Kenai River Brown Bears
Kenai River goaltender Gustaf Johansson, 19, was spectacular in the Brown Bears weekend road sweep of the Jr. Blues in Springfield. The native of Uppsala, Sweden, stopped 75 of a combined 76 shots this weekend and posted his first NAHL shutout on Saturday night with a 41-save performance. For the week, Johannson (6'4/190) had a save percentage of 98.7% and a goals against average of 0.50. The wins this weekend were the first for the Brown Bears and Johansson during the 2012-13 season. "Gustaf is new to the NAHL style of play and has had to adapt in a very a short period of time. I thought Springfield played really well and threw a lot at us, but Gustaf was dialed in for every shot, had good rebound control and played very well this weekend," said Brown Bears head coach Oliver David.
2nd Star: Jono Davis, forward, Wenatchee Wild
Honorable Mention (alphabetical): Robert Nichols, goaltender, Wenatchee Wild – Nick Hinz, defenseman, Fairbanks Ice Dogs – Steve Perry, goaltender, Fairbanks Ice Dogs.