Gongshow Hockey and NAHL renew partnership
September 18, 2012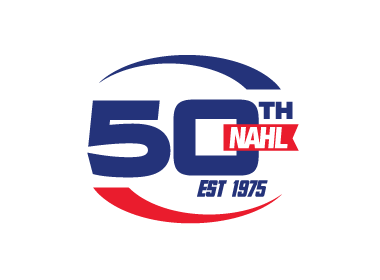 The North American Hockey League (NAHL) has announced that they have renewed their partnership with Gongshow Gear Inc. (Gongshow) to continue on as the Official Lifestyle Hockey Apparel of the NAHL for the 2012-13 season. As part of the agreement, Gongshow will continue as the sponsor of the NAHL TV platform on the NAHL website at www.nahl.com. Gongshow and the NAHL began their partnership in September of 2011.
Gongshow will also be the exclusive sponsor of the Flow of the Month promotion exclusively on the NAHL and Gongshow Twitter sites @NAHLHockey and @GONGSHOWGEAR. Fans and players alike are encouraged to submit photos of their best 'hockey hair' or 'flow' via Twitter and at the each of every month during the regular season, one fan and one player winner will be recognized on NAHL.com. During the month of November, Gongshow and the NAHL will team up for their 'Movember' campaign, as NAHL coaches, staff and players will support Men's health and cancer awareness by growing beards and mustaches. Gongshow will be providing the prize pack to the team that raises the most funds.
"We are pleased to be continuing our relationship with Gongshow, as they continue to be one of the most recognizable names in hockey apparel that also appeals to the demographic of our three leagues," said NAHL commissioner Mark Frankenfeld. "We received some great feedback from their involvement with us last season and look forward to growing the relationship and coming up with innovative and unique promotions in our second season together as partners."
"Gongshow Gear Inc. is excited to be continuing our partnership and relationship with the North American Hockey League as the Official Lifestyle Apparel Sponsor," said Ger McNamee, President of Gongshow Gear Inc. "The NAHL has a great track record and history of producing hockey talent, and we were very pleased with the first year of our partnership. We feel like it is a relationship that can grow each season."
Headquartered in Ottawa, Ontario, Canada - Gongshow is recognized as the hockey good industry's premier manufacturer of innovative, high quality, fashionable and trend setting clothing apparel for hockey athletes of all ages and abilities. Since introducing the first Lifestyle Hockey Apparel hat to hockey players in 2002, and pioneering a new retail category within hockey stores, Gongshow has constantly pushed the envelope in the evolution of hockey lifestyle and continues to influence the game in a positive manner around the world. The brand is worn by hundreds of NHL Players off the ice, which has helped further fuel its growth as the apparel of choice for hockey players of all ages and skill levels.
About Gongshow
Gongshow was founded in 2002 by three teammates in the Central Junior "A" Hockey League after identifying the need for a hockey apparel brand that would accurately represent the exciting and exclusive lifestyle that hockey players live. Gongshow was the first Lifestyle Hockey Apparel brand in the world to hit the market in 2002, and this game changing company has since grown into the largest hockey lifestyle clothing brand in the world - selling in over 500 retail locations, in 15 countries internationally, and has hailed comparisons to such pioneering lifestyle brands as Billabong (Surfing Lifestyle), and Burton (Snowboarding Lifestyle). Gongshow is dedicated to a core set of philosophies and strengths: design superiority, highest level of material quality and workmanship, edgy and trend setting hockey expression, a focus on consumer to brand connection, and strong partnerships with retailers and suppliers. Find Gongshow online at www.gongshowgear.com