RoadRunners win home opener over Jacks on Monday
September 18, 2012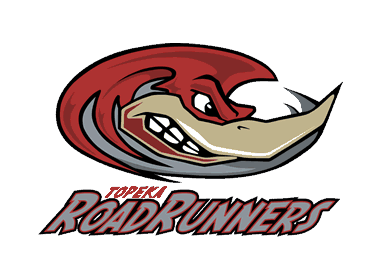 Odessa Jackalopes 2 @ Topeka RoadRunners 3 (OT) - In the opening game of their 2012-13 South Division schedule, the Odessa Jackalopes surrendered a third period lead and fell in overtime, 3-2 to the Topeka RoadRunners on Monday at Landon Arena, inside the Kansas ExpoCentre in Topeka, Kansas. With the overtime loss, the Jackalopes improved to 2-2-1 on the season and with five points, now sit tied for third in the NAHL's South Division standings. With the win, Topeka improved to 4-0-1 and took over 1st place in the South Division.
After a scoreless first period, the RoadRunners took a 1-0 lead just over two minutes into the second when Dallas Crum fired home his first goal of the season on a feed from Collin Montgomery. The Jackalopes were prompt in their response however, as Lawrence Cornellier was quick on the draw at 8:47 of the middle frame, banking the first of his two points on the night and his fifth goal in his past three games, off the back of Topeka goaltender Stephen Viele's left leg on the power-play to tie the game at one. Jalen Krogman and Jared Docken each picked up an assist on the play.
Odessa took their only lead of the game late in the second when Ryan Doucet, who played 33 games for Topeka in the 2011-12 season, scored his second goal of the season, following a beautiful setup by Cornellier and Tyler Minx. The Jacks entered the third period with a 2-1 lead, but the only goal in the final frame went Topeka's way. Veteran winger Kyle Sharkey delivered the game-tying tally at 12:11 of the third, when Montgomery and leading RoadRunners scorer Sean Gaffney combined on a tic-tac passing play to set up the score.
For the third straight game, the Jackalopes found themselves in overtime, but for the first time in 2012-13, Cornellier didn't end an overtime game with a game-winning goal. Instead it was Sharkey again, finding a soft spot in the Odessa zone following a Jackalopes turnover, lifting Topeka to their third consecutive win and a place alone atop the South Division standings.
In his third overall and second consecutive start in net for Odessa, Washington, Michigan native Jacob Theut turned in an impressive performance, stopping 23 of the 26 shots he faced and the Odessa power-play found a modicum of success, connecting on one of the Jacks five man-up opportunities. Viele stayed perfect on the season moving his record to 3-0-0 with a 20-save performance.