September 15, 2012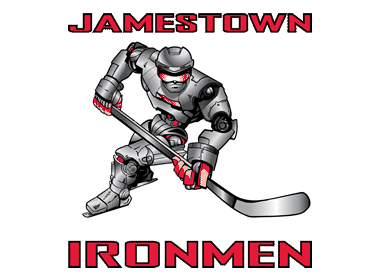 BY RANDY RUSSON, Sault This Week for nahl.com

The tone of his voice was calm and relaxed but with a distinct upbeat sound to it. Dan Daikawa was on the team bus, settling in for the start of a 16-hour bus ride from Blaine, Minnesota to Jamestown, New York. But the thought of a tiring trip home seemed irrelevant to Daikawa, whose Jamestown Ironmen had just won its third straight game to finish the North American Hockey League Showcase Tournament with a tidy record of 3-1.

This is Daikawa's second season as coach-general manager of the Ironmen just as it is the second season for the franchise in Jamestown after moving to southwestern New York from the Downriver area of Detroit, Michigan.

The 2011-12 season did not go well for the Ironmen in Jamestown. The team won just 19 of 60 games and missed the playoffs in what was a five-team NAHL North Division.

But what a difference a season can make, at least for starters.

The Ironmen head home to Jamestown with a record of 3-1 and showing clear signs of vying for one of six playoff spots in what is now an eight-team North Division. And the 41-year old Daikawa, who was a better-than-average defenceman during his Division 1, National Collegiate Athletic Association days with the Miami of Ohio RedHawks, said he sees a noticable difference in the 2012-13 edition of the Ironmen as opposed to the 2011-12 squad.

"For sure, we have seen a big change this season compared to last season in overall attitude and team chemistry," said Daikawa, who is assisted behind the bench by Yuji Iwamoto.

Daikawa added that through the early stages of the season thus far, he has noticed that the team appears closer-knit than it was a year ago.

"We have returning players and newcomers who have been holding each other accountable," Daikawa noted. "We're working hard and it's paid off so far."

Still, Daikawa was quick to point out that while winning three of four games at the Showcase is the type of start to build on, "a lot of things can happen over the course of a long season. We're obviously excited with our start but we want to stay humble. It's only four games into the season and we need to keep that in perspective."

Daikawa went to great lengths to try to improve the Ironmen during the off-season, acquiring several players via trade while shipping out and releasing a number of would-be-returnees "who we didn't feel were a good fit for what we are trying to accomplish."

As returning forwards Luc Gerdes and Jeff McFarland have scored four and three goals, respectively, through the first four games of the season, several off-season acquisitions have also paid dividends.

Forwards Ross Pavek (two goals, three assists), Joe Mottiqua (one goal, three assists) and Tyler Dunagan (one goal, one assist) combined for 10 points in the four Showcase games while goalies Reid Mimmack and Tim Shaughnessy allowed only eight goals in tandem.

Mimmack has a 2-0 record, 2.00 goals against average and .922 save percentage while Shaughnessy is 1-1, 2.03 and .920.

Pavek, Mottiqua, Dunagan and Mimmack are all former members of the NAHL's Aberdeen Wings while Shaughnessy was signed as a free agent after being released by the Minot Minotauros.

Also obtained from other NAHL squads are defencemen Payden Mielke (Corpus Christi IceRays) and Matt Lanzillotti (Kalamazoo Jr. K-Wings) and along with holdovers such as Aaron Scheppelman and Brett Szajner, the Ironmen have a solid veteran presence on the blueline.

After beginning this week's Showcase with a 3-1 loss to the Bismarck Bobcats, the Ironmen edged Minot 3-2, cuffed Corpus Christi 4-1 and clipped the Kenai River Brown Bears 6-2 in winning three of four games.

Which, in the words of Coach Daikawa, makes a long bus trip from Blaine to Jamestown "a much-easier ride."