NAHL launches redesigned and new-look website
September 11, 2012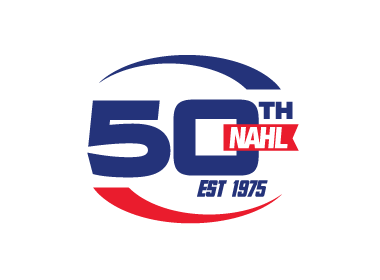 The North American Hockey League (NAHL) announced the redesign and launch of their website at www.nahl.com. The launch comes a day before the 10th annual Combat Hockey/NAHL Showcase, which begins Wednesday, September 12th at the Schwan Super Rink in Blaine, Minnesota.
The website was redesigned to enhance user functionality and has an overall simplified look. Particular attention was directed to the front of the home page as the league look to emphasize and highlight the most used features by the visitors to nahl.com. The complete menu bar is now located at the top of the page, complete with drop down subtopics.
"The purpose of NAHL.com is to provide current, time sensitive, and critical NAHL information in the most efficient manner that any one of tens of thousands of viewers can enjoy," said NAHL Commissioner Mark Frankenfeld. "NAHL.com is a very active and agile site that exchanges a multitude of information online and it is essential that all players, coaches, teams, scouts, media, parents, friends and fans have a singular location to access that information anytime and from anywhere."
The quick use buttons on the right hand side include link to watch all NAHL games live through their official broadcast provider, FASTHockey. A college commitments section is also highlighted. This past season, the NAHL had over 190 NCAA commitments, with almost two-thirds of those to NCAA Division I schools. Links to the NAHL's hockey partners at the North American 3 Hockey League (3HL) and North American Prospects Hockey League (PHL) are also prominently featured.
It also features a link to all of the NAHL's upcoming events like this week's Combat Hockey/NAHL Showcase, February's NAHL Top Prospects Tournament in Troy, Michigan and the Robertson Cup National Championship Tournament, which takes place annually in May.
The site is the official source for NAHL scores and statistics provided by Pointstreak and additional features such as: the Combat Hockey Divisional Stars of the Week, Player and Defenseman of the Month, Brian's Custom Sports Goaltenders of the Month, Gongshow Hockey Flow of the Month, as well as the maps and history of the league, tryout information, hotel and rental car information for all league events and information on league partners and suppliers.?
The NAHL TV portal located towards the bottom of the home page is where fans can view NAHL league and team video clips, highlights and interviews. The site features also features a section to display the top stories along with additional news features in the press about teams.
The NAHL website was developed by NAHL webmaster John Elftmann with the assistance and input of the NAHL Marketing staff.