24 Teams in 24 Days: Brookings Blizzard
September 3, 2012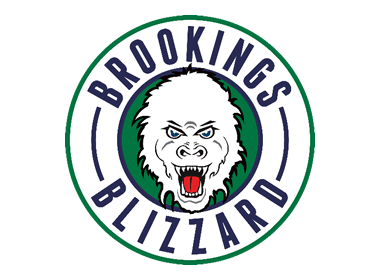 The '24 in 24' series features an in-depth look into all 24 NAHL teams, with a new team being highlighted daily, leading all the way up until the start of the regular season on Saturday, September 8th.
'24 in 24' will go in-depth into each NAHL team and will include interview with all 24 NAHL head coaches as they prognosticate and break down their outlook for the upcoming season.
Brookings Blizzard
After six seasons in Alexandria, Minnesota, the Blizzard organization announced back in April that they would be moving to their new home in Brookings, South Dakota. The announcement came on the heels of the Blizzard's opening round playoff loss to the Austin Bruins in the Central Division Semi-Finals. It put a brief damper on what was the most successful regular season in Blizzard history. The team set a franchise record with 40 wins last year, as they were one of only four teams in the NAHL last season to achieve the 40-win mark. They also managed to move six players onto the NCAA.
The wins last season didn't come by chance, but the Blizzard did take a while to get going. After putting together a 15-10-2 record the first half of the season, the Blizzard ripped off a league-high 11 straight wins in late December and January. In their last 13 games of the season, they only lost once in regulation and looked primed for a playoff run. However, it would end sooner than anyone would have wanted as they fell in four games to Austin and the season came to a close.
A week later came the Brookings announcement, which Owner/Governor Chris Canavati said was a difficult decision, but one he felt comfortable with. "It was a very hard decision to move the NAHL team, but it came to the point where we felt it would be better suited in a different market," Canavati said. "The fans in Brookings are going to see a team that has set franchise records for wins each of the last three seasons, we're going to put on a great show and we know the fans will love the brand of hockey."
The winds of change also affected the coaching staff as Doc DelCastillo took an NCAA coaching job, so enter new head coach, Cory Laylin. Laylin played college hockey at the University of Minnesota, where he led his team to the 1992 NCAA national championship game. After completing his college career he played professionally for 16 seasons in various European leagues.
"I had played and also been working in Minnesota and was very aware of the NAHL and its tradition, so when I heard the position with the Blizzard was available, I jumped at the opportunity," said Laylin. "I enjoy this level of hockey because teaching is so much a part of it and the players are still at that learning stage." Prior to the Blizzard, Laylin was most recently the head coach of the Keltern Hockey Club which was part of the Italian A2 Professional Hockey League. "I think there be will some adapting at first to see what kind of team and players we are going to have, but we want a team that is tough to score on and sound defensively," said Laylin. "Hopefully, that will lead to offense and the ability to open up the ice."
Laylin has not had a lot of time to build a team for the 2012-13 season, but he will have the advantage of having a veteran team. "We needed a little bit more grittiness along the wings, but I think we are very sound defensively," said Laylin. "I told the veteran guys that were coming back that I wanted them to earn their stripes again this season, because it is a new town, their playing for a new coach and they have a new group of teammates that they need to set an example for."
Of the veterans returning in a Blizzard uniform, one has stood out for Laylin and that's returning captain, Thomas Williams. "He has been unbelievable in training camp and has done a great job thus far mentoring the younger players," said Laylin. "He plays hard and works his tail off, so sets a great example for the other players." Williams, 20, will be entering his third and final season in the NAHL having scored 82 points in 100 career NAHL regular season games. On defense, Dillon Zink, Brandon Parker and Matt Youso are three veterans that have impressed Laylin thus far.
Among the rookies, Laylin is excited about the entire crop, but Swedish forward Emil Blomqvist has opened some eyes early in camp. "He came highly recommended and has some great size and ability," said Laylin. Defenseman Dylan Nelson and forward Ian Ecklund are both rookies that came to the NAHL from the Minnesota High School Hockey ranks that Laylin has been impressed by thus far.
Perhaps the biggest question for the Blizzard may be between the pipes with the loss of Jacob Myers and Michael Bitzer, but Laylin is confident someone will step up. "We have some good guys in camp and I can't comment who will be the #1 guy yet, but so far they have shown some great ability."
Next up in the NAHL 24 Teams in 24 Days series, the Bismarck Bobcats.