24 Teams in 24 Days: Michigan Warriors
August 24, 2012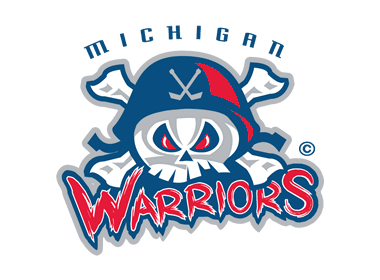 The '24 in 24' series features an in-depth look into all 24 NAHL teams, with a new team being highlighted daily, leading all the way up until the start of the regular season on Saturday, September 8th.
'24 in 24' will go in-depth into each NAHL team and will include interview with all 24 NAHL head coaches as they prognosticate and break down their outlook for the upcoming season.
Michigan Warriors
A year removed from their appearance and remarkable run to the Robertson Cup Finals in 2010-11, the Michigan Warriors began last season with a load of optimism in their second season in the NAHL. Head coach Moe Mantha was armed with a young team after having eight players commit to NCAA schools the season prior. The Warriors are fortunate to have an experienced bench boss in Mantha, who has played over 650 games in the NHL and who has coached in leagues such as the AHL, ECHL and OHL. The University of Michigan's legendary coach Red Barenson said the following about Mantha… "When a player comes to you having been coached by Moe, you can expect that you'll be getting a well-developed player who is a well-rounded individual. That's the rep that Moe has."
Armed with that reputation, Mantha and the Warriors looked like they were going to pick up right where they left off as they went 6-0-1 in their first seven games and 10-2-1 in their first 13 games to begin last season. However, the Warriors inexperience began to show as they won just one of their next 15 games. "After losing some of the key players we did, including the league's MVP, we knew we were going to be young and have some immaturities last season," said Mantha. "I think anytime you have a really young team like that it is hard to be consistent for 60 games, but towards the end of the season I saw the improvement in our players and we put together a decent run and were able to make the playoffs."
The Warriors bowed out to Port Huron in four games in the North Division Semi-Finals of last year's Robertson Cup Playoffs and that began the start of the rebuilding process for the team. "We were looking for more speed and goal-scoring up front for this season," said Mantha. "We also want to improve at the goaltending position and be more consistent." The numbers from last season don't lie for the Warriors, who were in the bottom third in both goals scored and goals allowed per game last season.
Not only did the Warriors move six players onto the NCAA from last season including their top two leading scorers in AJ White (UMASS-Lowell) and Joey Ferriss (University of Connecticut), but the Warriors assistant coach, John Hamre, also had the opportunity to move on, as he took the head coaching position with the NAHL's Coulee Region Chill. It was something that Mantha was also very proud of. "Our program is not just wins and losses, but about development, and if one of our staff members has a chance to move onward and upward like John did, we take a lot of pride in that as well."
Having coached at so many levels, Mantha said that coaching in the NAHL in very unique. "I think at every step along the way that I have been coaching prospects, but the NAHL is so much about teaching guys how to play with and without the puck," said Mantha. "Our players also have to learn to play a team game and understand the practice habits you have to have off the ice with their training, nutrition and daily preparation." Mantha said that his philosophy of coaching, specifically in the NAHL, revolved around the life skills and experience for his players. "We are trying to prepare them for the next step in their futures and we want what we teach them in hockey to translate positively to their lives," said Mantha.
As for the players that will be making up the 2012-13 Michigan Warriors roster, Mantha indicated that Martin Gruse, who was the team's captain last season, would be returning. Gruse was second in goals last season (16) and scored 34 points in 52 games. Brad Pizzey also returns to the line-up up front. On the blueline, the Warriors return Derek O'Flynn and Luke Fiegle, both of whom stand right around 6'2" and weigh 215 pounds and have plenty of size to handle the rigors of life in the NAHL.
In goal, the Warriors return 18-year-old Trevor Gorsuch, who didn't appear in a game until the second half of the season last year, but who played well down the stretch and who also was Michigan's go-to goaltender in the playoffs. Mantha said that rookie goaltenders Michael Pesendorfer and Jordan Uhelski will compete for the other spot. As for other rookies looking to make an impact on the roster, Mantha said he has been impressed by Luke Rendino, who played last season for the Orange County Hockey Club 18U team in the North American Prospects Hockey League (PHL). "Luke had two great camps with us and can put the puck in the net, so we were encouraged about that," said Mantha. Michigan's 1st round pick from the NAHL Draft, Jake Hopfner, is also expected to be on the team, and Mantha also said that newcomers John Farkas and Brock Labelle should be able to make an impact as well.
Next up in the NAHL 24 Teams in 24 Days series, the Kenai River Brown Bears.