NAHL announces 2012 Robertson Cup Tournament schedule
April 30, 2012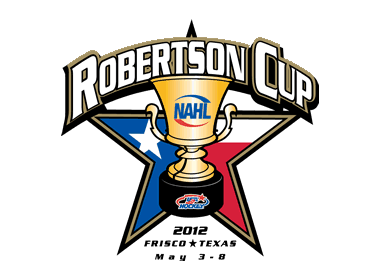 The North American Hockey League (NAHL) has released the schedule for the 2012 Robertson Cup National Championship Tournament, which will be played from May 3-8 at the Dr Pepper Arena in Frisco, Texas.
The six qualifying teams were broken into two pools, with each team from Pool A crossing over to play each team in Pool B and vice-versa. Pool A features the #1 seed Amarillo Bulls, #3 seed St. Louis Bandits, and #5 seed Port Huron Fighting Falcons, while the #2 seed Bismarck Bobcats, #4 seed Fairbanks Ice Dogs, and #6 seed Texas Tornado will be playing out of Pool B. The seeding was based upon the respective teams' regular season record. The Tornado received the 6th seed because they did not win their divisional playoff title as the other five did.
Pool A
#1 Amarillo Bulls (South Champion)
#3 St. Louis Bandits (Midwest Champion)
#5 Port Huron Fighting Falcons (North Champion)
Pool B
#2 Bismarck Bobcats (Central Champion)
#4 Fairbanks Ice Dogs (West Champion)
#6 Texas Tornado (host)
Robertson Cup Schedule (all times central)
May 3-Fairbanks vs. St. Louis, 12:30pm; Port Huron vs. Bismarck, 3:30pm; Texas vs. Amarillo, 7:30pm
May 4-St. Louis vs. Bismarck, 12:30pm; Fairbanks vs. Amarillo, 3:30pm; Texas vs. Port Huron, 7:30pm
May 5-Bismarck vs. Amarillo, 12:30pm; Port Huron vs. Fairbanks, 3:30pm; Texas vs. St. Louis, 7:30pm
May 6-(No Games) NAHL Banquet of Champions, Cocktails at 6:00pm, Dinner at 7:00pm
May 7-Semi-Finals; A1 vs. A2, 3:30pm; B1 vs. B2, 7:30pm
May 8-National Championship Game, 7:30pm
All overtime Robertson Cup games, including those played during pool play, will be played using Sudden Death format. If the score is tied after three periods, the teams will go to their respective dressing rooms while the ice is resurfaced for a 20-minute overtime period. This process will repeat until a goal is scored.
The top two teams in each pool will advance to the semifinal round, to be played Monday May 7th. However, should all three teams in one pool go 3-0 in the round-robin, all teams from that pool will advance to the semi-finals. The team with the best goal differential in the opposite pool will also move on to the semi-finals. Similarly, if all three teams from one pool go 2-1, the same rules apply. Goal differential will be used as the first tiebreaker, while goal quotient will be used as the second tiebreaker. By dividing goals scored by goals allowed, positions will be determined based on the highest quotient.
View the complete Robertson Cup Championship Tournament schedule here.
All tournament games can be viewed live over the Internet through FASTHockey.com.
For more information on the Robertson Cup Championship Tournament visit www.robertsoncup.com.