NAHL announces Combat Hockey 3 stars of the week
March 19, 2012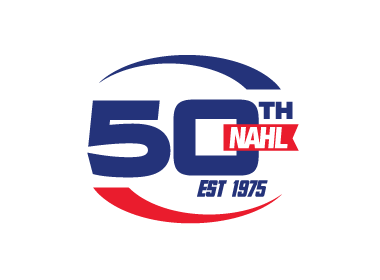 The North American Hockey League (NAHL) today announced the Three Stars of the Week presented by Combat Hockey for the week ending March 18, 2012. The Three Stars of the Week is a weekly feature during the 2011-12 regular season that honors the top performing players each week of the regular season as nominated by their respective teams.
1st Star: Zach Schrotenboer, forward, Chicago Hitmen
It has been three months since the last time the Hitmen won back-to-back games, but with a weekend road sweep in Coulee Region against the Chill this past weekend, Zach Schrotenboer and Chicago made a statement with two big wins, producing plenty of offense in the process. The offense was led by Schrotenboer, 20, who totaled seven points (4 goals, 3 assists) and was a +7 in the two wins. On Friday, the Geneva, Illinois native recorded a goal in Chicago's 4-1 win. The next night, Schrotenboer (5'11/175) posted a career-high six point night as he recorded a hat-trick, including the game-winning goal, and three assists in a 9-5 win. The six points in one game was the second most in an NAHL game this season. "Zach was dynamic the entire weekend and scored some big goals for us," said Chicago head coach Brent Agrusa. "He has a lot of confidence with the puck and wants to make plays. He wants to be an elite player and a scoring threat every time he steps on the ice."
2nd Star: Josef Pontasch, forward, Springfield Jr. Blues
Springfield picked up a three-game weekend home sweep of the Janesville Jets thanks in large part to the play of forward Josef Pontasch. The native of Perrysburg, Ohio scored in all three games and racked up seven points (3 goals, 4 assists) in the weekend sweep. Pontasch's, 20, best game came on Friday night when he factored in on all four Springfield goals in a 4-3 win. Pontasch (6'1/201) recorded a goal and three assists to lead the Jr. Blues charge. The next night, Pontasch added another goal in a 2-0 shutout win. On Sunday, Pontasch would score yet another goal and add an assist in a 2-0 win. "Josef is a veteran and understands how to play, produce and lead," said Jr. Blues head coach Joe Dibble. "He does the extra things off the ice to bring his game to the next level and that rubs off on his teammates. He is going to be a very good hockey player at the next level."
3rd Star: Connor Hellebuyck, goaltender, Odessa Jackalopes
Odessa goaltender Connor Hellebuyck has a lot of NHL teams talking thanks in large part to not only his play the entire season, but his recent play which has gotten the Jackalopes into serious playoff contention in the South Division. This past weekend was a perfect example as the native of Commerce, Michigan strung together three wins in three nights as the Jackalopes moved into a tie for 4th place and a playoff spot. For the weekend, Hellebuyck, 18, stopped a combined 91 of 96 shots, good for a 94.8% save percentage and a perfect 3-0-0 record. On Thursday, Hellebuyck (6'4/185) made 29 saves in a 6-2 win over New Mexico. Friday, he made 31 saves in a 6-1 win over Wichita Falls. Then on Saturday, it was another 31-save performance in a 3-2 win over the Wildcats. Hellebuyck has now won his last six starts. "Connor has established such a good work ethic and it is paying off for him," said Odessa general manager Joe Clark. "He has become more consistent because as the season has gone both he and the entire team have gotten better and improved. He knows and understands that any given night there could be several NHL teams watching him and he has responded very well in his performance."
Honorable Mention (alphabetical): Drew Allen, forward, Texas Tornado – Gabe Antoni, goaltender, Springfield Jr. Blues – Ben Bahe, forward, Topeka RoadRunners – Max Birkinbine, forward, Fairbanks Ice Dogs – Lawrence Cornellier, forward, Odessa Jackalopes – Edward Dyson, goaltender, Dawson Creek Rage – Bodhi Engum, goaltender, Alaska Avalanche – Christian George, forward, Kalamazoo Jr. K-Wings – Greg Gibson, forward, Amarillo Bulls – Codey Hansen, forward, Alaska Avalanche – Joe Kozlak, forward, Amarillo Bulls – Kyle Laslo, goaltender, Traverse City North Stars – Drew Mayer, forward, Texas Tornado – Alex Murphy, defenseman, Chicago Hitmen – Kyle Sharkey, forward, Topeka RoadRunners – Tomas Sholl, goaltender, Fresno Monsters – Anthony Stolarz, goaltender, Corpus Christi IceRays – Jared Van Wormer, forward, Traverse City North Stars.