NAHL announces Combat Hockey 3 stars of the week
February 27, 2012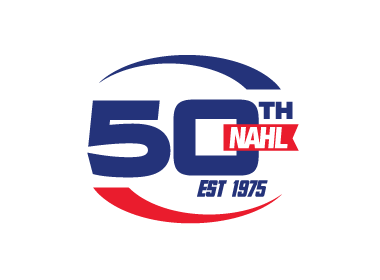 The North American Hockey League (NAHL) today announced the Three Stars of the Week presented by Combat Hockey for the week ending February 26, 2012. The Three Stars of the Week is a weekly feature during the 2011-12 regular season that honors the top performing players each week of the regular season as nominated by their respective teams.
1st Star: Jacob Meyers, goaltender, Alexandria Blizzard
Alexandria goaltender Jacob Meyers, 20, is really starting to fine tune his game. This past weekend was no exception as Meyers recorded a perfect couple of performances in goal to help Alexandria to a weekend home sweep of the Coulee Region Chill. The Minnetonka, Minnesota native stopped a perfect 60 of 60 shots during the weekend. It included back-to-back 30-save performances during Friday night's 2-0 win and Saturday night's 10-0 win. Meyers (6'1/180), a Quinnipiac recruit, ranks in the Top 4 in almost every NAHL goaltending category including: wins (26), goals against average (2.02), save percentage (93.1%) and shutouts (6). "Anytime you have a goalie that doesn't give up a goal, it makes it easy on everyone else," said Blizzard head coach Doc DelCastillo. "Despite the scores, Jacob faced a lot of shots and his saves gave us momentum. He gives the team a lot of confidence when he is in goal."
2nd Star: Mitchell Snider, forward, Traverse City North Stars
Traverse City forward Mitchell Snider, 20, had a career weekend as he racked up eight points (3 goals, 5 assists) in a two-game home sweep of the Chicago Hitmen. He was also an eye-popping +7 during the weekend series. On Friday night, the Traverse City native set a new career high with four points (1 goal, 3 assists) in a 9-0 win over Chicago. The next night, Snider (5'9/165) equaled his career high again with another four point game (2 goals, 2 assists), but this time recorded the game-winning goal as Traverse City beat Chicago, 6-1. Snider's eight point weekend was a quarter of his 32 points that he has accumulated to date. "Mitchell's #1 asset is his speed. When he is in the line-up and at full strength, we are a good team," said North Stars head coach Chad Fournier. "He has made huge strides this season and really improved as a player. He is the emotional leader of our team on and off the ice."
3rd Star: Robert Nichols, goaltender, Wenatchee Wild
It may seem like a broken record, but the key to Wenatchee's success this year has been because of their goalies. This weekend was no exception as goaltender Robert Nichols, 19, strung together two remarkable starts as the Wild swept a pair of games against South Division powerhouse, the Topeka RoadRunners. Nichols (5'11/180) stopped a combined 53 of 55 shots on the weekend, good for a 96.4 save percentage and his goals against average was 0.96 for the weekend. On Friday, the Dallas, Texas native made 19 saves in a 4-1 win over the RoadRunners. On Saturday, Nichols was even better, recording a season-high 34 saves in a 2-1 shootout win over Topeka, which included stopping five shooters in the shootout. Nichols is statistically the #1 goalie in the NAHL, leading the league in both goals against average (1.58) and save percentage (93.7%). "Robbie should get more credit for our success," said Wild head coach John Becanic. "Although we are a defense first team, it all has to start in goal and Robbie solidified that this weekend."
Honorable Mention (alphabetical): Marc Biggs, forward, Texas Tornado – Ben Carey, forward, Wenatchee Wild – Brian Christie, forward, Topeka RoadRunners – Garret Clemment, forward, Fairbanks Ice Dogs – Kyle Cook, forward, Springfield Jr. Blues – Wehebe Darge, forward, Alaska Avalanche – Tanner Fahlstedt, forward, Alaska Avalanche – Bryce Fink, goaltender, Topeka RoadRunners – Joe Kalisz, forward, St. Louis Bandits – Brett Lubanski, forward, Kenai River Brown Bears – Ken MacLean, goaltender, Kalamazoo Jr. K-Wings – Justin Moody, forward, Alexandria Blizzard – Patrick Moore, forward, Bismarck Bobcats – John Olen, forward, Janesville Jets – Steve Perry, goaltender Fairbanks Ice Dogs – Jack Prince, forward, Texas Tornado – John Rey, defenseman, Amarillo Bulls – Eric Rivard, forward, Traverse City North Stars – TJ Sarcona, forward, Amarillo Bulls – Chris Sitler, forward, Springfield Jr. Blues.