NAHL announces Combat Hockey 3 stars of the week
February 21, 2012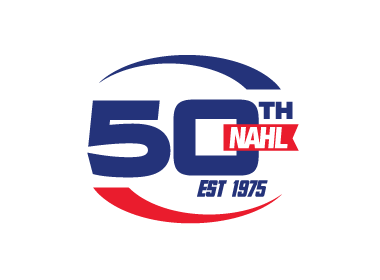 The North American Hockey League (NAHL) today announced the Three Stars of the Week presented by Combat Hockey for the week ending February 19, 2012. The Three Stars of the Week is a weekly feature during the 2011-12 regular season that honors the top performing players each week of the regular season as nominated by their respective teams.
1st Star: Joe Kalisz, forward, St. Louis Bandits
St. Louis Bandits forward Joe Kalisz, 20, had the rare feat of factoring in on every single one of his team's goals this past weekend… all 9 of them. The forward from Davison, Michigan helped the Bandits to a weekend split in Michigan against the Warriors. On Friday, Kalisz (6'0/200) registered a career-high six points (2 goals, 4 assists) in a 6-1 win over the Warriors. The next night, Kalisz picked up a goal and two more assists in a close 4-3 loss. For the weekend, Kalisz had three goals and six assists for nine points and factored in on the scoring sheet on every St. Louis goal over the weekend. He was also a +7 in the two games. Kalisz, a UCONN recruit, ranks 5th in NAHL scoring with 61 points in 46 games. "Joe has become an elite player and understands where he needs to be on the ice in order to produce the points he does," said St. Louis head coach Jeff Brown. "He makes our offense go."
2nd Star: Max Milosek, goaltender, Port Huron Fighting Falcons
Port Huron goaltender Max Milosek, 19, was perfect this past weekend… literally. The goaltender from Lapeer, Michigan stopped all 65 shots in the two games he played against the visiting Chicago Hitmen to post his 2nd and 3rd shutouts of the season, as Port Huron swept Chicago by identical 7-0 scores. On Friday, Milosek (5'10/175) made 35 saves and shut down all three Chicago power plays in the win. On Saturday, Milosek made 30 saves and closed the door on four Chicago power plays to complete the perfect weekend. It brought Milosek's save percentage up close to 92% for the season. "I think Max should get a lot of credit for our wins last weekend," said Port Huron head coach Bill Warren. "He was solid all game long and when the score was close, he made some big saves to give us some momentum. He racked up quite a few saves and battled hard in each game."
3rd Star: Tony Kujava, goaltender, Janesville Jets
Janesville goaltender Tony Kujava , 20, is making his case for MVP and this weekend was further proof of how good he has been this season for the Jets. The native of Green Bay, Wisconsin helped the Jets to a weekend road sweep of the Jamestown Ironmen as the Jets continued to hold onto 1st place in the Midwest Division. On Friday, Kujava (5'10/170) made 19 saves through regulation and overtime and stopped all three shooters in a 2-1 shootout win. On Saturday, Kujava made 25 saves through regulation and overtime and then stopped all five shooters in the shootout for another 2-1 win. For the weekend, Kujava stopped 44 of 46 shots and had a goals against average of .92. For the season, Kujava leads the NAHL in wins with 27, and ranks second in the NAHL in both goals against average and save percentage. "Tony has been awesome lately and is really showing the form he had at the start of the season," said Jets head coach Dane Litke. "He is so sound mentally and it really gives our team a lot of confidence to know he is going to make the big saves like he did in the shootouts this past weekend."
Honorable Mention (alphabetical): Charlie Adams, forward, Austin Bruins – Ben Bahe, forward, Topeka RoadRunners – Jacob Barber, forward, Wenatchee Wild – Riley Borer, forward, Fresno Monsters – Brian Christie, forward, Topeka RoadRunners – Davis Dekorte, forward, Kalamazoo Jr. K-Wings – Kyle Gattelaro, forward, Kalamazoo Jr. K-Wings – Rance Hughes, forward, St. Louis Bandits – Chris Kerr, forward, Wenatchee Wild – Max Reavis, forward, Port Huron Fighting Falcons – Tomas Sholl, goaltender, Fresno Monsters – Marcus Zelzer, goaltender, Aberdeen Wings.