NAHL Top Prospects Tournament begins Monday
February 19, 2012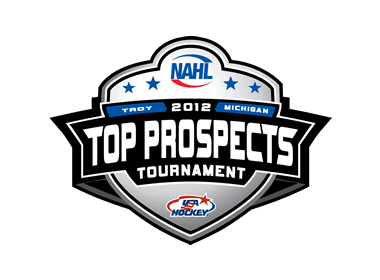 The North American Hockey League (NAHL) Top Prospects Tournament, presented by Combat Hockey, is set to begin on Monday, February 20th and run through Wednesday, February 22nd at the Troy Sports Center in Troy, Michigan.
The event features six teams, one from each of the five NAHL Divisions and a 6th NAHL 18U Selects team, competing against one another in the three-day event that showcases some of the NAHL's top players.
Each team consists of a 20-man roster, with minor player crossover amongst the four teams.

NAHL Top Prospects Tournament Rosters:
North

South

West

NAHL 18U Selects
View the NAHL Top Prospects Tournament schedule here.

All Top Prospects Tournament games can be viewed live via the Internet through FASTHockey.com. Live play-by-play commentary will be brought to you by Paul Teeple of the Bismarck Bobcats, along with color commentary from Joey Battaino from the Michigan Warriors.

In conjunction with the Top Prospects Tournament, all North American Prospects Hockey League (PHL) teams - Midget Major (18U), Midget Minor (16U) and Bantam Major (14U) - will compete in the Championship Tournament Series for the right to be crowned league champions. The PHL Championship games in all three divisions are slated for Monday.
The North American 3 Hockey League (3HL) is also competing in the 3HL East Showcase, in which eight of the 16 3HL teams will play one regular season game a day for four days in conjunction with the Top Prospects Tournament.
For more information on the NAHL Top Prospects Tournament, visit NAHLTopProspects.com.