NAHL announces Combat Hockey 3 stars of the week
February 13, 2012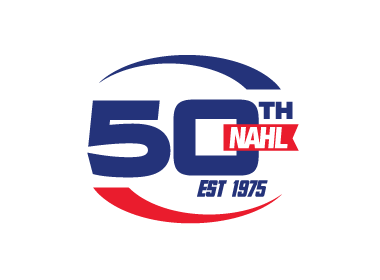 The North American Hockey League (NAHL) today announced the Three Stars of the Week presented by Combat Hockey for the week ending February 12, 2012. The Three Stars of the Week is a weekly feature during the 2011-12 regular season that honors the top performing players each week of the regular season as nominated by their respective teams.
1st Star: Alex Okicki, goaltender, Kalamazoo Jr. K-Wings
In a week dominated by NAHL goaltenders, perhaps no netminder was better than Kalamazoo's Alex Okicki. The 18-year-old goalie from Concord, Ohio, was solid in both of his starts this past week, posting a perfect 2-0 record with a goals against average of .50 and an eye-popping save percentage of 98.4%, including a shutout. On Wednesday, Okicki and the 2nd place K-Wings traveled to Traverse City to take on the North Stars. Despite being outshot 39-28, Okicki (6'1/170) saved the day with 38 saves in a 4-1 win. On Sunday, Okicki was perfect, making 24 saves in a 3-0 home shutout of the Jamestown Ironmen. Okicki has won his last four starts and ranks 7th in the NAHL with a 92.4% save percentage this season. "Alex has established himself as a great goaltender, especially for a rookie," said Kalamazoo head coach Marc Fakler. "Your goaltender has to be best player on the ice most night and he was that player in both starts he had this past week. He works very hard on his game and wants to get better every day."
2nd Star: Tommy Burke, goaltender, Bismarck Bobcats
The Bismarck Bobcats have the most wins in the NAHL thanks in large part to goaltender Tommy Burke, who is tied for the league lead in wins (25), thanks to another big week for the 20-year-old goaltender from Chaska, Minnesota. Burke (6'1/185) began the week with perhaps his best performance as the Bobcats posted a huge 2-0 shutout on Wednesday at 2nd place Alexandria. Burke stopped all 24 shots that came his way for his first career shutout. Despite not starting on Friday, Burke made a relief appearance in Bismarck's 4-2 loss in which Burke did not give up a goal on eight shots. The next night, Burke stopped 25 of 27 shots in a 4-2 over the Austin Bruins. For the week, Burke finished with a 2-0 record, a .86 goals against average, a 96.6% save percentage and one shutout. "Wednesday was a huge win for us in Alexandria and Tommy was at his best," said Bobcats head coach Layne Sedevie. "The team plays with a lot of confidence with Tommy in goal. I think he learned a lot from Ryan Faragher last season and has translated that into being a top-level goaltender this season with NCAA Division I potential."
3rd Star: Tyler Green, goaltender, St. Louis Bandits
In one weekend the St. Louis Bandits turned their chances around for yet another division titles as they took a three-game home set from the 1st place Janesville Jets to draw within a point if 1st place in the Midwest Division. Between the pipes for two of those three games was goaltender Tyler Green. Green, 20, began the weekend by posting a 19-save shutout in a hard-fought 1-0 win over the Jets, which included denying the Jets on four power plays. The Noblesville, Indiana native got the start the next night and promptly responded with another great performance against the division leaders by making 16 saves in a 4-2 win. For the weekend, Green (6'3/201) stopped 35 of 37 shots, good for a 94.6 save percentage and a goals against average of 1.00 against the Midwest Division's 1st place team. Since arriving in St. Louis in a trade with Wichita Falls, Green has posted a 7-2-0 record with a 1.92 goals against average and a 92.6% save percentage. "I think Tyler has been a very nice addition for this team," said Bandits head coach Jeff Brown. "He is very mentally sound and never gets too high or too low with his emotions. He adds experience to the lockerroom, and we feel we have a very solid goaltending combination right now."
Honorable Mention (alphabetical): Max Birkinbine, forward, Fairbanks Ice Dogs – Joe Birmingham, forward, St. Louis Bandits - Tyler Bruggeman, goaltender, Austin Bruins – Adam Chapie, forward, New Mexico Mustangs – Brett D'Andrea, forward, Port Huron Fighting Falcons – Frank DeAugustine, forward, Bismarck Bobcats – Dan Dupell, forward, Topeka RoadRunners – Christian Folin, defenseman, Austin Bruins – Greg Gibson, forward, Amarillo Bulls – Andrew Graves, forward, Kalamazoo Jr. K-Wings – Jonathan Grebosky, forward, Corpus Christi IceRays – Gregg Gruehl, goaltender, Amarillo Bulls – Matt Leon, goaltender, Wichita Falls Wildcats - Radim Matus, forward, Springfield Jr. Blues – Bobby Murphy, forward, Kenai River Brown Bears – Sean Murphy, forward, Traverse City North Stars – Pavlo Padakin, forward, Fairbanks Ice Dogs – Zach Pochiro, forward, Wichita Falls Wildcats - Kody Polin, forward, Port Huron Fighting Falcons – Jake Stafford, goaltender, New Mexico Mustangs – Gavin Tufte, forward, Springfield Jr. Blues – Jared Van Wormer, forward, Traverse City North Stars – Brett Zarazun, defenseman, Dawson Creek Rage.