NAHL announces Combat Hockey 3 stars of the week
January 2, 2012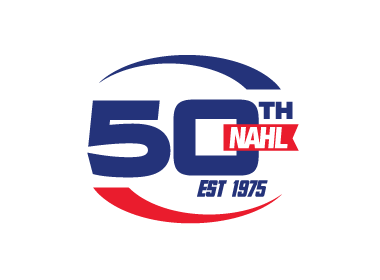 The North American Hockey League (NAHL) today announced the Three Stars of the Week presented by Combat Hockey for the week ending January 1, 2012. The Three Stars of the Week is a weekly feature during the 2011-12 regular season that honors the top performing players each week of the regular season as nominated by their respective teams.
1st Star: Peter Traber, goaltender, Topeka RoadRunners
The Topeka RoadRunners and goaltender Peter Traber, 18, had a weekend to remember. Head coach Scott Langer recently has made it clear that Traber has won the starting job and he responded this past weekend with a pair of back-to-back home shutouts against the Springfield Jr. Blues. On Friday, the Houston, Texas native stopped all 18 shots as Topeka narrowly edged Springfield, 1-0. The next night, Traber (6'1/180), was even better as he made 22 saves, including breakaway stops which led to his second straight shutout of the weekend in a 3-0 win. Both shutouts were Traber's first two of the season. He improved his record to 11-5-0 overall this season with a 2.16 goals against average, which ranks 6th in the NAHL and also a 91.3% save percentage. "Peter has consistently improved his game since coming to play for us," said RoadRunners head coach Scott Langer. "He possesses a lot of maturity on and off the ice. He is a big time competitor in net and has tremendous focus. Our players play well in front of him knowing he can stop the chances like Springfield had this past weekend."
2nd Star: Jack Prince, forward, Texas Tornado
For almost three seasons now forward Jack Prince, 20, has been an integral part of the Texas Tornado. As a veteran of the last two NAHL Top Prospects Tournaments, Prince once again proved why he is one of the best players in the league this year this past week with another memorable individual performance. For the week, the native of England registered seven goals and one assist for eight points in three games as Texas went 2-1-0 for the week. On Wednesday, Prince recorded a hat-trick and added an assist as Texas beat Corpus Christi, 6-2. On Friday in Odessa, Prince was even better as he scored four goals, including three on the power play as Texas beat the Jackalopes, 9-1. Despite a Tornado loss on Saturday, the damage had been done by Prince, who kept the Tornado solidly in 2nd place in the South. For the season, Prince leads the Tornado with 44 points, is 4th in the NAHL in scoring and ranks 1st in power play goals with 10. "Jack understands how to play the game and understands how to score goals," said Tornado head coach Tony Curtale. "He is a great leader and one of the best players I have had the pleasure to coach in my time in Texas."
3rd Star: Jacob Meyers, goaltender, Alexandria Blizzard
The NAHL goalie of the month for November, Jacob Meyers, 19, has not let off the gas pedal in December and this past weekend was evidence of that as he started and won all three Blizzard games to move Alexandria into 2nd place in the Central Division. On Friday, the Minnetonka, Minnesota native made 25 saves in a 7-1 home win against Minot. The next night, the 6'1, 180 lbs. goaltender made 30 saves in a big 5-2 road win at Aberdeen. On Sunday, in his third game in three nights, Meyers made 23 saves in a 2-1 home win over the Austin Bruins. Meyers lowered his goals against average to 1.91 for the season which ranks 4th best in the NAHL and his save percentage of 93% also ranks 4th. For the week, Meyers stopped a combined 78 of 82 shots for a 95.1% save percentage over the weekend and allowed just four goals in the three games for a 1.33 goals against average. "I think Jacob's confidence builds with every week he plays," said Blizzard head coach Doc DelCastillo. "Coming off the break he was well rested, so I had no problem playing him in all three games, because we want to get one of the two top spots in the Central Division and wins are big right now."
Other players nominated were (alphabetical): Tucker Coborn, forward, Alexandria Blizzard – Michael Dery, forward, Corpus Christi Ice Rays – Mike Erickson, forward, Amarillo Bulls – David Gandara, forward, Chicago Hitmen – Joakim Jutras, goaltender, Texas Tornado – Bill Kent, forward, New Mexico Mustangs – Gabe Levin, forward, Fairbanks Ice Dogs – Darren McCormick, forward, Janesville Jets – Austin Nelson, forward, Austin Bruins – JT Osborn, forward, Fairbanks Ice Dogs – Ross Pavek, forward, Alaska Avalanche – John Rey, defenseman, Amarillo Bulls – Blake Roubos, forward, Wenatchee Wild – Tate Rusk, defenseman, New Mexico Mustangs – Connor Wright, forward, Alaska Avalanche.