A near Kerr-fect performance lifts Wild over Rage on Sunday
December 5, 2011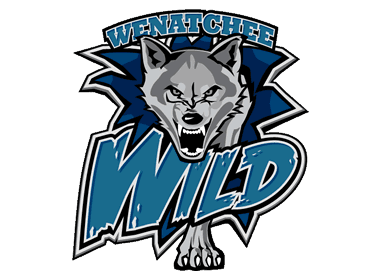 Wenatchee's Chris Kerr recorded a natural hat trick on three power play goals, then added a fourth goal in the third period on a short breakaway to lead the Wenatchee Wild to a 6-1 win over the Dawson Creek Rage Sunday evening at the Town Toyota Center. The victory gave the Wild five points in three games this weekend over the Rage which was enough to climb into fourth place in the NAHL's West Division.

Kerr, who also recorded a second-period assist to finish the game with five points, was not the only Wild forward to make history Sunday. Shawn Pauly who began his junior career with the Wild in 2009-10, earned the primary assists on Kerr's first three goals and scored a goal of his own in the third period to reach the 100-point plateau with the team.
Kerr put the Wild up 2-0 in the first period on a pair of power-play markers. The first, scored five minutes into the period, came from point-blank range on a pass from Pauly. Max McHugh also assisted.

The Wild took a 2-goal lead with 6:44 left before the first intermission on another Pauly-to-Kerr connection. On this sequence, Pauly feathered the puck between a defender's legs from the goal line to set Kerr up right in front of the net again.

Kerr's natural hat trick goal came with 3:50 left in second period when Pauly launched a hard pass from bottom of the far circle to give Kerr another golden shot at the cage, which he did after briefly settling the rubber.

The Wild celebrated their fourth goal of the contest 11 seconds after Kerr's hat trick when Matt Cope buried a shot stick side from the top inside corner of the near faceoff circle.
Ryan Matthews' power play goal with 46 seconds remaining in the second period got the Rage on the scoreboard and broke up Greg Lewis' shutout bid. Scott Fellnermayr assisted.

Wenatchee added two more goals in the third period, both of which were historic. The first was scored 7:39 into the third stanza and represented Pauly's 100th career point with the Wild. The second was scored with 7:59 left in regulation and represented Kerr's fourth goal of the game, the highest individual single-game output in team history.

Kerr's fourth goal came off of a turnover inside the Rage zone, which allowed a short breakaway. Kerr used a quick forehand-to-backhand move and finished with a high backhander for the unassisted score.

Lewis made 17 saves on 18 shots to earn his fifth win of the 2011-12 season. Dawson Creek goalie Jack Surgenor stopped 27 of the 32 shots he faced. Wenatchee scored three power play goals on six chances. Dawson Creek scored one man-advantage goal on eight opportunities.