Combat Hockey/NAHL 3 Stars of the Week announced
November 28, 2011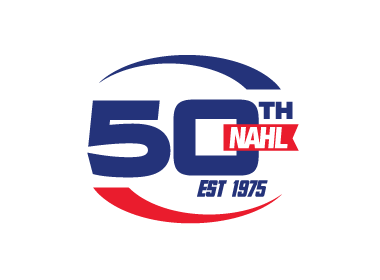 The North American Hockey League (NAHL) today announced the Three Stars of the Week presented by Combat Hockey for the week ending November 27, 2011. The Three Stars of the Week is a weekly feature during the 2011-12 regular season that honors the top performing players each week of the regular season as nominated by their respective teams.
1st Star: Jacob Meyers, goaltender, Alexandria Blizzard
Over the past month, Blizzard goaltender Jacob Meyers, 19, has really thrived since accepting the starting role. It is no coincidence then that so has the Blizzard as a team and this past week was no exception. The Minnetonka, Minnesota native won all three of his starts, giving up just three goals in the three games and posting a 96.6% save percentage as the Blizzard beat Coulee Region, Aberdeen and Austin. On Wednesday, Meyers was perfect stopping all 27 shots in a 4-0 shutout at Coulee Region. On Friday, Meyers stopped 30 of 31 shots in a 4-1 home win over Aberdeen. On Saturday, Meyers completed his perfect week making 28 saves in a 5-2 home win over Austin. "Jacob has been very consistent and helped us win a lot of games in the last month," said Blizzard head coach Doc DelCastillo. "He seems to be always square to the puck has sound fundamentals. He plays under control, makes the first save and lets his teammates help out after that."
2nd Star: Jeff Bergh, defenseman, Alaska Avalanche
Since his trade from Alexandria, Avalanche defenseman Jeff Burgh has been lights out for Alaska and has led their resurgence to the top of the West Division. This past week, the blueliner from Hallock, Minnesota scored four goals in three games, which included two game-winning goals in back-to-back games. Bergh, 19, picked up the game-winner on Monday as the Avalanche blanked the Dawson Creek Rage, 4-0. On Friday, Bergh put forth his best performance of the week, recording a hat-trick, including the game-winning goal as Alaska defeated 2nd place Kenai River on the road. "Jeff is a very dynamic, solid, two-way player who pays attention to details," said Avalanche assistant coach Josh Petrich. "He has been a blessing in disguise since joining our team and he makes those around him better. Has really been one of the key ingredients in our recent success."
3rd Star: Greg Gibson, forward, Amarillo Bulls
The Amarillo Bulls own the best record in the league and Burlington, Ontario native Greg Gibson is a key reason why. Gibson, 20, posted five points this past week as the Bulls increased their lead in the South Division taking a possible five of six points in their three games. On Wednesday, Gibson recorded a goal and assist in a 4-3 overtime loss against Wichita Falls. After being held scoreless in Amarillo's 6-2 win on Friday in Topeka, Gibson shined on Saturday, recording two goals (including the game-winner) and an assist as Amarillo swept the Roadrunners on the road with a 4-2 win. "Greg has really come into his own the last couple of weeks. He is shooting the puck more and can attack the opposition with his speed," said Bulls head coach Dennis Williams. "We expect him to be a big contributor the rest of the season and really improve our special team play."
Other players nominated were (alphabetical): Will Badner, forward, Traverse City North Stars – Charles Baldwin, forward, New Mexico Mustangs – Brooks Behling, forward, Amarillo Bulls – Ben Carey, forward, Wenatchee Wild – Randy Graham, goaltender, New Mexico Mustangs – Joakim Jutras, goaltender, Texas Tornado – Mitch Kontny, forward, Alaska Avalanche – Tony Kujava, goaltender, Janesville Jets – Travis Maxwell, defenseman, Corpus Christi IceRays – Jacob McDowell, forward, Kalamazoo Jr. K-Wings – Max Milosek, goaltender, Port Huron Fighting Falcons – Mike Moroso, forward, Port Huron Fighting Falcons – Tayler Munson, forward, Fairbanks Ice Dogs – Steve Obarzanek, forward, Aberdeen Wings – John Olen, forward, Janesville Jets – Sean O'Rourke, defenseman, Fairbanks Ice Dogs – Shawn Pauly, forward, Wenatchee Wild – Robbie Payne, forward, Kalamazoo Jr. K-Wings – Jack Prince, forward, Texas Tornado – Jesse Ramsey, defenseman, Kenai River Brown Bears – Tim Shaughnessy, goaltender, Minot Minotauros – Mitchell Snider, forward, Traverse City North Stars.