Rhinos top Grit on Sunday to complete weekend sweep
September 11, 2023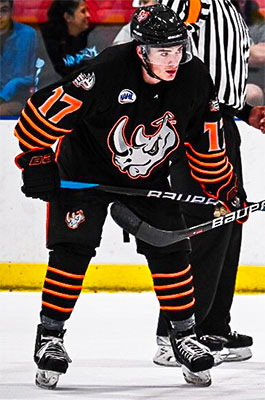 El Paso 4 @ Colorado 2 – Joey LoVollo made 16 saves as the El Paso Rhinos completed a three-game weekend road sweep of the Colorado Grit thanks to a 4-2 win on Sunday.
The balanced scoring continued for the Rhinos in Game 3 of the series as they took a 2-1 lead into the lockerroom through the first 20 minutes thanks to goals from Alex Bernauer and Medrick Bolduc, while Mason Sturm scored for the Grit.
In the 2nd period, the Rhinos made it 3-1 on a goal from Jakub Jerman and the Grit responded with a goal from Quinn Bowden to make it a 3-2 contest after two periods.
In the 3rd period, Max Giblin would add an empty-net goal to secure the win and sweep. Anthony Eaton picked up two assists in the game.
Colorado goalie Max Lacroix took the loss, making 30 saves.