Weekend Preview: Face-Off 2023!
September 8, 2023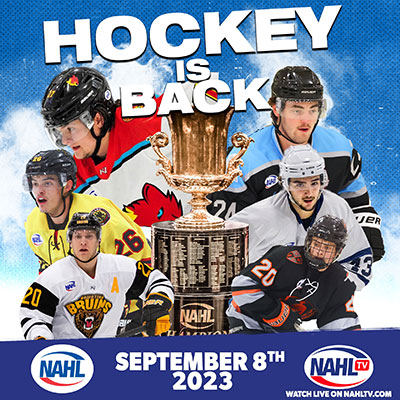 It's time to drop the puck! The North American Hockey League (NAHL) begins its 49th season with the opening weekend of the 2023-24 regular season as 17 games are on the schedule from Friday-Sunday.
The 20th annual NAHL Showcase is on the horizon next week as all 32 teams will make their way to the Super Rink in Blaine, Minnesota, for The Greatest Show on Ice. The event takes place from September 13-16, 2023, as the remainder of the NAHL teams begin their 2023-24 regular season.
One of the things the NAHL does better than any other junior league is seeing their players earn an NCAA opportunity while playing and being showcased in the NAHL. During the 2022-23 season 380 NAHL players made NCAA commitments, with 260 of those (69%) being NCAA Division I commitments.
The Central Division does not start regular season play until Wednesday, September 13th at the NAHL Showcase.
The East Division has a full schedule of games. The Rochester Jr. Americans make their NAHL debut as the host the Philadelphia Rebels this weekend in a battle of red, white, and blue. The defending division champion Maryland Black Bears will play host to the Johnstown Tomahawks. The Northeast Generals open their season on the road against the Maine Nordiques. The New Jersey Titans take to the road to open their season against the Danbury Jr. Hat Tricks.
In the Midwest Division, the Fairbanks Ice Dogs get their season underway as the travel to Janesville, WI, to take on the Janesville Jets. On Saturday, the Anchorage Wolverines will open their season in Proctor, Minnesota against the Minnesota Wilderness. The Kenai River Brown Bears also open their season on Saturday with a road game against the Chippewa Steel.
In the South Division, the Colorado Grit make their NAHL debut as they host the El Paso Rhinos for a three-game set on Friday, Saturday, and Sunday. The other series in the South Division has the Lone Star Brahmas on the road to take on the New Mexico Ice Wolves.
Watch all the action on NAHLTV
Friday, September 8
Lone Star Brahmas @ New Mexico Ice Wolves, 06:30 PM MDT
New Jersey Titans @ Danbury Hat Tricks, 07:00 PM EDT
Fairbanks Ice Dogs @ Janesville Jets, 07:05 PM CDT
Johnstown Tomahawks @ Maryland Black Bears, 07:15 PM EDT
El Paso Rhinos @ Colorado Grit, 07:15 PM MDT
Northeast Generals @ Maine Nordiques, 07:30 PM EDT
Philadelphia Rebels @ Rochester Jr Americans, 08:00 PM EDT
Saturday, September 9
El Paso Rhinos @ Colorado Grit, 03:45 PM MDT
Johnstown Tomahawks @ Maryland Black Bears, 06:30 PM EDT
Lone Star Brahmas @ New Mexico Ice Wolves, 06:30 PM MDT
Kenai River Brown Bears @ Chippewa Steel, 07:00 PM CDT
New Jersey Titans @ Danbury Hat Tricks, 07:00 PM EDT
Northeast Generals @ Maine Nordiques, 07:00 PM EDT
Fairbanks Ice Dogs @ Janesville Jets, 07:05 PM CDT
Anchorage Wolverines @ Minnesota Wilderness, 07:15 PM CDT
Philadelphia Rebels @ Rochester Jr Americans, 08:00 PM EDT
Sunday, September 10
El Paso Rhinos @ Colorado Grit, 01:15 PM MDT