St. Cloud forward Wandmacher makes NCAA commitment
May 30, 2023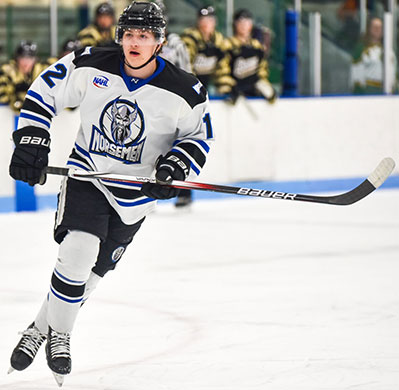 The St. Cloud Norsemen of the North American Hockey League (NAHL) are pleased to announce that forward Jack Wandmacher has committed to play NCAA Division III hockey for St. John's University.
Wandmacher, 20, immediately talks about the coaches as the primary reason he wants to be a Johnny. "The coaching staff and the campus," answers Wandmacher when asked about why he chose St. John's. "Through the whole process the coaches were fantastic and when I went on a tour of the campus I loved it."
In a two-year career in the NAHL, the 5'10/175 lbs. native of St. Louis Park, MN, had 42 points (14 goals, 28 assists) in 112 games and through an odd quirk of the system, he played 61 NAHL games this season as he played 32 for Corpus Christi then when traded the Norsemen still had 29 games left and dressed in all of them. That means he played 61 regular season games when the season is only 60 games long for each team. Jack also dressed in all 7 postseason games so he had perfect attendance throughout the regular and postseason.
"Wandy came to our team mid-season and worked his butt off. He was a great teammate and did everything he could to help the team win," St. Cloud Norsemen Assistant Coach Brock Kautz compliments. "St. John's is getting a great kid with an unbelievable work ethic."
Wandmacher was thrilled to become a St. Cloud Norseman when he was traded this season because he joined a team in a playoff push and was much closer to home as he hails from St. Louis Park, MN. St. John's is located in Collegeville, MN and it's just 20 minutes from St. Cloud, so Jack was happy that once again he'll be close to home. "After playing in Texas for a bit and not seeing family it's always nice to be close to home so I can see my parents and family often," admits Wandmacher.
Wandmacher played four seasons for St. Louis Park High School and put up 46-46-113 in 85 regular season games for the Orioles. And with St. John's playing their home games at the Herb Brooks National Hockey Center in St. Cloud, Wandmacher has also deduced that he'll get an opportunity to come back to the MAC and watch his old team and some former teammates next season. "Yeah, I'm pumped I'll have an opportunity to see the guys again and watch them play," Wandmacher boasts.
St. John's hockey competes in the Minnesota Intercollegiate Athletic Conference or the MIAC and in 2022-23 the Johnnies finished 9-5-2 in conference play and 13-10-3 overall.
Click here for an updated NAHL to NCAA commitment list