Warriors and Bruins square off for Robertson Cup title
May 23, 2023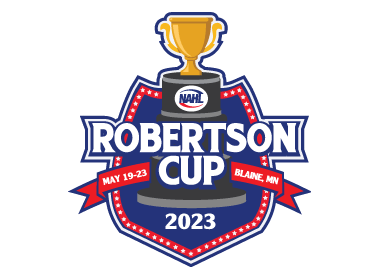 The stage is set for the 2023 North American Hockey League (NAHL) Robertson Cup National Championship Game, which will be played on Tuesday, May 23rd at 7pm at Fogerty Ice Arena in Blaine, Minnesota.
The game will feature the #1-seeded Oklahoma Warriors from Oklahoma City, Oklahoma, against the #3-seeded Austin Bruins from Austin, Minnesota. The Robertson Cup is awarded to the national playoff champion of the NAHL.
Doors open at 6:00pm and tickets can be purchased at the Fogerty Arena Box Office, which opens at 5:00pm on Tuesday, May 23rd. Any Minnesota High School hockey player can purchase a game ticket for just $5.00.
For more information on the Robertson Cup Championship Tournament, including schedule, scout information, ticket information, hotels, rental cars and other event information, visit http://nahl.com/robertson-cup/
All 2023 NAHL Robertson Cup Playoff games can be viewed live and in HD on HockeyTV.
2023 NAHL Robertson Cup Results
Semi-Final #1 (Oklahoma wins series, 2-0)
Friday, May 19, Game 1: #4 Minnesota 2 vs. #1 Oklahoma 4
Saturday, May 20, Game 2: #1 Oklahoma 3 vs. #4 Minnesota 1
Semi-Final #2 (Austin wins series, 2-1)
Friday, May 19, Game 1: #3 Austin 4 vs. #2 Maryland 0
Saturday, May 20, Game 2: #2 Maryland 2 vs. #3 Austin 1
Sunday, May 21, Game 3: #3 Austin 4 vs. #2 Maryland 2
Tuesday, May 23: Robertson Cup National Championship Game, Oklahoma vs. Austin, 7:00pm
Overtime Procedure: During all Robertson Cup Championship games, if the score is tied after three periods of play the following overtime procedure shall take place. Teams shall return to their dressing room and the ice shall be resurfaced. A fifteen-minute intermission shall take place. A twenty-minute, sudden death, overtime period shall be played with five skaters a side. The game shall terminate upon a goal being scored and the Club scoring declared the winner. If no goal is scored, the same procedure as above shall be repeated until a winner has been determined.