Bruins beat Black Bears to advance to title game
May 22, 2023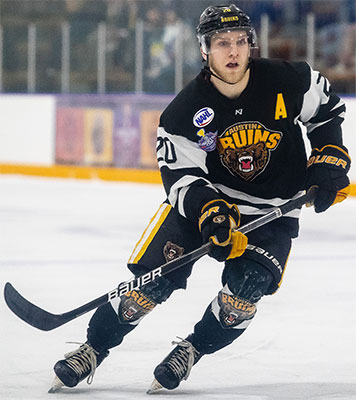 The 2023 North American Hockey League (NAHL) Robertson Cup National Championship continued on Sunday at Fogerty Ice Arena in Blaine, Minnesota, with the Austin Bruins defeating the Maryland Black Bears, 4-2 in Game 3 of their Semi-Final series and punching their ticket to the Robertson Cup Championship Game on Tuesday.
The Robertson Cup is awarded to the national playoff champion of the NAHL.
For more information on the Robertson Cup Championship Tournament, including schedule, scout information, ticket information, hotels, rental cars and other event information, visit http://nahl.com/robertson-cup/
All 2023 NAHL Robertson Cup Playoff games can be viewed live and in HD on HockeyTV.
2023 NAHL Robertson Cup Schedule (all times central)
Friday, May 19, Game 1: #1 Oklahoma 4 vs. #4 Minnesota 2 | #3 Austin 4 vs. #2 Maryland 0
Saturday, May 20, Game 2: #1 Oklahoma 3 vs. #4 Minnesota 1 | #2 Maryland 2 vs. #3 Austin 1
Sunday, May 21, Game 3: #3 Austin 4 vs. #2 Maryland 2
Monday, May 22: Off Day
Tuesday, May 23: Robertson Cup National Championship Game: Oklahoma vs. Austin, 7:00pm
Day 3 Recaps
Robertson Cup Semi-Finals, Game 3: Austin Bruins 4 vs. Maryland Black Bears 2 (Austin wins series, 2-1) – Austin forwards Walter Zacher and Josh Giuliani each had a goal and an assist as the Bruins advanced to the Robertson Cup Championship Game with a 2-1 win in Game 3 of their Semi-Final series against the Maryland Black Bears on Sunday night.
The Bruins seized momentum early in the game as Walter Zacher scored his 8th goal of the playoffs as he got a pass in the low slot to make it 1-0. Maryland responded later in the period as a scramble in front saw a puck squirt free to defenseman Trey Scott in the slot, who then backhanded a shot home to knot the game at 1-1.
In the 2nd period, the Bruins took a 2-1 lead as Josh Giuliani cleaned up a rebound on the power play with another assist to Cook.
Early in the 3rd period, the lead increased to 3-1 for the Bruins as Austin Salani swooped in a picked up a pass from Giuliani and scored at the 3:19 mark. The Black Bears made it a 3-2 game midway through the 3rd period as Riley Ruh dumped the puck in the Austin zone, only to see it take a strange hop off the board, off Bruins goalie Trent Wiemken, and into the back of the net to pull the Black Bears within one. With just under five minutes remaining, the Bruins got the insurance goal they needed as defenseman Matthew Desiderio crept in the point land fired a laser home for a 4-2 lead with an assist to Zacher.
Wiemken made 28 saves in the win, while Black Bears goalie William Hakansson made 24 saves in the loss.