Oklahoma and Austin win on Day 1 of Robertson Cup
May 20, 2023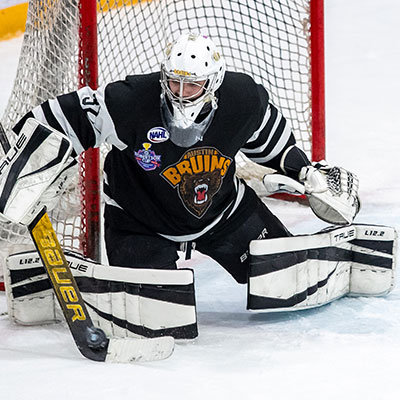 The 2023 North American Hockey League (NAHL) Robertson Cup National Championship got underway on Friday at Fogerty Ice Arena in Blaine, Minnesota, with the Oklahoma Warriors and Austin Bruins picking up wins on Day 1.
The event runs from May 19-23. The Robertson Cup is awarded to the national playoff champion of the NAHL.
For more information on the Robertson Cup Championship Tournament, including schedule, scout information, ticket information, hotels, rental cars and other event information, visit http://nahl.com/robertson-cup/
All 2023 NAHL Robertson Cup Playoff games can be viewed live and in HD on HockeyTV.
2023 NAHL Robertson Cup Schedule (all times central)
Friday, May 19, Game 1: #1 Oklahoma 4 vs. #4 Minnesota 2 | #3 Austin 4 vs. #2 Maryland 0
Saturday, May 20, Game 2: #1 Oklahoma vs. #4 Minnesota, 4:30pm | #2 Maryland vs. #3 Austin, 7:30pm
Sunday, May 21, Game 3: #4 Minnesota vs. #1 Oklahoma, 3:00pm |#3 Austin vs. #2 Maryland, 6:00pm*
Monday, May 22: Off Day
Tuesday, May 23: Robertson Cup National Championship Game, 7:00pm
*if necessary
Day 1 Recaps
Robertson Cup Semi-Final #1: Oklahoma Warriors 4 vs. Minnesota Wilderness 2 (Oklahoma leads series, 1-0) – The Oklahoma Warriors scored four goals in the final 6:51 of the 3rd period to come-from-behind and stun a large crowd at Fogerty Arena in the first Semi-Final as they beat the Wilderness, 4-2. Thanks to the goaltending of goalie Isak Posch, the #4-seeded Wilderness had a 2-0 lead after two periods. The first goal came in the 1st period on a nice wrist shot from defenseman Michael Quinn from the left circle. The 2nd goal was scored by Sawyer Scholl in the 2nd period as he used a defenseman for a screen and wristed a shot home from the top of the right circle. Oliver Stumpel assisted on both tallies. In the 3rd period, the Warriors stormed back with four goals in less than six minutes. Kaden Nelson got Oklahoma on the board at the 13:09 mark as he potted home a rebound after a wrap-around attempt from William Lawson-Body. Just over two minutes later, defenseman Cole Teleki tied the game at 2-2 with a seeing eye shot from the point. With 3:35 left in regulation, NAHL MVP and Warriors forward Joey Delgreco have his team a 3-2 lead as he put home a rebound after a shot from the point from Owen Baumgartner. With just over a minute left in regulation, Delgreco would add his second goal of the game with an empty-netter. Warriors goalie Daniel Duris made 20 saves in the win, while Posch made 33 saves in the loss.
Robertson Cup Semi-Final #2: Austin Bruins 4 vs. Maryland Black Bears 0 (Austin leads series, 1-0) – The Austin Bruins got two goals from forward Matys Brassard and a 27-save shutout from goaltender Trent Wiemken to defeat the Maryland Black Bears 4-0 in Game 1 in their best of three Semi-Final series. Brassard's first goal came just over six minutes into the 1st period as he beat Maryland goalie William Hakansson short side. Brassard's second goal came just :08 seconds into the 2nd period as Austin won the opening face-off and dumped the Maryland zone. With Hakansson going behind the net to stop the puck, the puck took a favorable hop off the boards and squirted out to the slot where Brassard put the puck into the open net for a 2-0 lead. Later in the period, Ocean Wallace would add his second goal of the playoffs to make it a 3-0 contest after two periods. In the 3rd period, Jack Malinski added a power play goal to make it a 4-0 final. Maryland goalie William Hakansson made 14 saves in the loss.