NAHL announces on-ice officials for Robertson Cup
May 18, 2023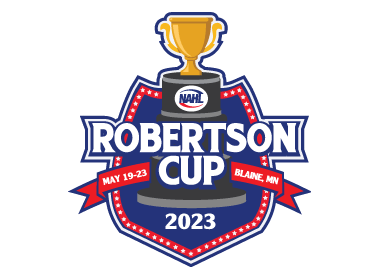 The North American Hockey League (NAHL) has named the officials for the 2023 Robertson Cup National Championship.
Ten officials have been tapped to work the Semi-Finals and Championship Game. Here are the five NAHL Referees and five NAHL Linesmen chosen to officiate the Championship:
Referees: Alex Berard, William Fraser, Conor Harrington, Dylan Sater, Ryan Siegel
Linesmen: Gus Ahrendt, Landon Depew, Odin Nelson, Jacob Rozenberg, Jordan Stachelski
The four divisional playoff champions who have qualified for the 2023 Robertson Cup Championship are: #1 Oklahoma Warriors (South Division), #2 Maryland Black Bears (East Division), #3 Austin Bruins (Central Division), and the #4 Minnesota Wilderness (Midwest Division). Clubs were then seeded 1-4 for the event based upon their finish in the NAHL regular-season standings.
The #1 Seed will face the #4 seed in a best of three series. The #2 seed will face the #3 seed in a best of three series. The two series winners will advance to a one-game Championship Game to determine the Robertson Cup Champion.
Tickets and Scout passes are now on sale for the event. For more information on the Robertson Cup Championship Tournament, including schedule, scout information, ticket information, hotels, rental cars and other event information, visit http://nahl.com/robertson-cup/
All 2023 NAHL Robertson Cup Playoff games can be viewed live and in HD on HockeyTV.
2023 NAHL Robertson Cup Schedule (all times central)
Thursday, May 18 - Team Practices and Media Day: 11:00am, 12:15pm, 1:30pm, and 2:45pm
Friday, May 19, Game 1: #4 Minnesota vs. #1 Oklahoma, 4:30pm | #3 Austin vs. #2 Maryland, 7:30pm
Saturday, May 20, Game 2: #1 Oklahoma vs. #4 Minnesota, 4:30pm | #2 Maryland vs. #3 Austin, 7:30pm
Sunday, May 21, Game 3: #4 Minnesota vs. #1 Oklahoma, 3:00pm |#3 Austin vs. #2 Maryland, 6:00pm*
Monday, May 22: Off Day
Tuesday, May 23: Robertson Cup National Championship Game, 7:00pm
*if necessary