Black Bears, Bruins, Wilderness round out Robertson Cup field
May 14, 2023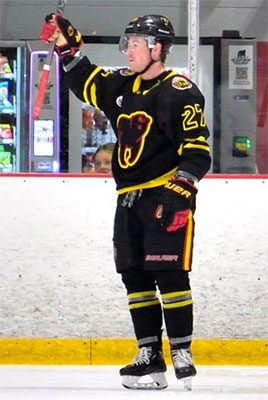 East Division Finals, Game 4: Maryland 8 @ Maine 4 (Maryland wins series, 3-1) – Branden Piku had two goals to lead the Black Bears to an 8-4 win in Game 4 of the East Finals, clinching the series and trip to the Robertson Cup for the Black Bears. The Black Bears weren't messing around and made a statement early in the game, outscoring Maine 4-1 in the 1st period. Piku scored along with Adam Schankula, Riley Ruh, and Kareem El Bashir, while Laurent Trepanier scored for Maine. In the 2nd period, Maine made it 4-2 on a goal from Hunter Fetterolf, but Maryland responded with a goal from Gabriel Westling to make it 5-2. In the 3rd period, Maryland put the game on ice with another goal from Piku and others from Hunter Ramos and Gunnar VanDamme. Aidan Coupe and Kim Hilmersson had the other goals for the Nordiques. William Hakansson made 27 saves in the win, while Kael Depape made 32 saves in the loss. With the win, Maryland will head to Blaine for their first ever Robertson Cup Championship as the #2 seed.
Midwest Division Finals, Game 4: Wisconsin 3 @ Minnesota 5 (Minnesota wins series, 3-1) – Kevin Marx Noren and Oliver Stumpel each had a goal and two assists as the Wilderness punched their ticket to the Robertson Cup with a 5-3 win in Game 4, winning the series over the Windigo, 3-1. An active 1st period saw the teams deadlocked at 2-2 after 20 minutes with Marx Noren and Sawyer Scholl scoring for the Wilderness and Victor Widlund and Frank Jenkins answering for the Windigo. The Wilderness seized control in the 2nd period thanks to goals from Stumpel and Adam Johnson to take a 4-2 lead. The Windigo drew within a goal in the 3rd period on a goal from Drew Fisher. However, an empty-net goal from Beau Janzig secured the win. Isak Posch made 33 saves in the win, while Gavin Moffatt took the loss with 8 saves.
Central Division Finals, Game 4: Austin 2 @ St. Cloud 1 (OT) (Austin wins series, 3-1) – Damon Furuseth's first goal of the playoffs couldn't have come at a bigger time as he scored halfway through overtime of Game 4 to give the Austin Bruins a 2-1 win and win the Central Finals, 3 games to 1. After a scoreless 1st period, the Bruins got on the board first in the 2nd period with a goal from Matthew Desiderio. St. Cloud had an answer midway through the 3rd period as Blake Perbix struck on the power play to tie the game at 1-1. That set up Furuseth's winner, which sends the Bruins to their first Robertson Cup Semi-Finals since 2015. Bruins goalie Trent Wiemken made 24 saves in the win, while Will Ingemann made 37 saves in the loss.