Minot forward Fischer makes NCAA DI commitment
May 8, 2023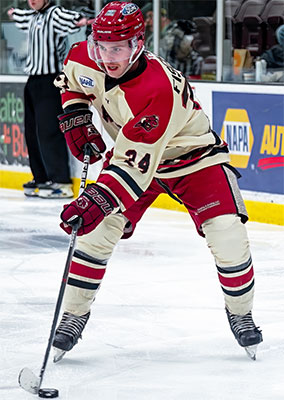 The Minot Minotauros of the North American Hockey League (NAHK) are proud to announce that forward Braden Fischer has committed to play NCAA Division I hockey for the University of Minnesota-Duluth in the NCHC.
Fischer, 20, becomes the fourth Tauro to head to Minnesota-Duluth where he will play with fellow Tauro Alumni Zach Sandy and Kyler Kleven. Overall Fischer is the 98th Minotauro to make an NCAA DI commitment.
"Minnesota-Duluth has been a dream of mine," said Fischer. "The tradition of success as a team, the school's history of excellence, player development and opportunity is something I feel so blessed and excited to be a part of. The academics at Minnesota-Duluth are great and campus is beautiful. The location is also not too far from hom."
Once on campus Fischer plans to study either Business or Psychology.
Tauros Head Coach/General Manager Cody Campbell was understandably excited for Fischer, especially considering what the forward overcame this season. "To say that Braden has earned this would be an understatement. He suffered a severe injury just a couple of weeks after arriving in Minot. The work he put in to rehabbing just to give himself a chance at getting back this season was incredible. He didn't only get back, but he came back and made consistent and timely contributions to our group's success during the stretch run. His efforts are being rewarded with this opportunity and he is going to add a positivity and desire to compete to the at UMD that will continue to add to their championship culture. We are so proud and excited for Braden accomplishment."
Fischer had five points in five games prior to his injury in October and did not return until February posting 14 points in 19 games after his return. He then took his game to another level in the Playoffs scoring two goals and setting up another in three playoff contests.
Despite his time as a Tauro being short Fischer believes it certainly helped him reach his goal of being a Bulldog. "Being a Tauro has helped me in every step and in every way! Giving me an opportunity to play on this team, being put in a position to succeed and helping develop me into the person and hockey player I am today!"
Fischer also took time to acknowledge those who have helped him reach his goal. "I would like to thank both my parents who have given me this opportunity to play hockey and for the sacrifice of their time and parts of their lives to help me achieve my goals and dreams! I'd like to thank my teammates for always supporting me and welcoming me back to the team this year with open arms. I'd like to thank Cody and Kyle and the everybody in the Tauros organization for helping me along this journey in every way. To all my former coaches and teammates and billet families that have helped and supported me. And to thank God for his strength and healing!"
Click here for an updated NAHL to NCAA commitment list