Shutout by Bucheler leads Mudbugs to series win
May 1, 2023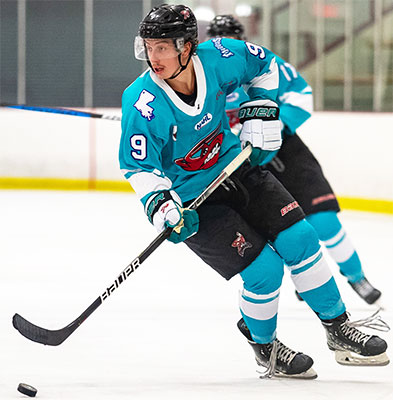 South Division Semi-Finals, Game 5: Shreveport 1 @ Lone Star 0 (Shreveport wins series, 3-2) – Thanks to a 25-save shutout from goalie Simon Bucheler, the Shreverport Mudbugs advanced to the South Finals with a 1-0 win in Game 5 in North Richland Hills, Texas. The Mudbugs came back from a 2-1 deficit to win the series.
For the first time in the series, a team would score in the 1st period and it proved to be the game and series winner. Just :17 seconds into the contest a Brahmas turnover at their own blueline led to a heads up play by the forechecking of Garrett Steele and Hayden Nichol got the puck to a wide open Logan Gotinsky, who deked Brahmas goalie Arthur Smith for the 1-0 lead. It was Gotinsky's first goal of the series.
The rest of the game was a goalie duel between Bucheler and Brahmas goalie Arthur Smith. Bucheler made perhaps one of his best saves of the season with just under four minutes in regulation to keep the Brahmas scoreless. Smith made 21 saves in the loss. Bucheler, who was in goal for both the Mudbugs losses in the series, picked up his first win and finished the series with a .98 goals against average and .957 save percentage.
Shreveport will now advance to the South Finals to take on the Oklahoma Warriors. Games 1 and 2 are in Oklahoma City on May 5 and 6.